French President Sarkozy's 'joy' at daughter's birth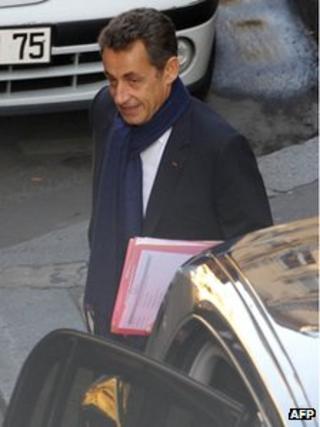 French President Nicolas Sarkozy has described the birth of his daughter as a "profound joy" but a "private" one.
His daughter with wife Carla Bruni-Sarkozy was born on Wednesday night at a Paris clinic.
Mr Sarkozy arrived at the La Muette clinic several hours after the birth. He had visited the clinic earlier in the day, but left to travel to Germany for talks on the eurozone debt crisis.
Mr Sarkozy already has three sons from two previous marriages.
Mr Sarkozy, who was on a scheduled visit to a waste-processing plant in western France when he made his comments, said the birth was a "very profound joy, a joy all the deeper because it is private".
He added both mother and baby were "doing very well". He added the baby's name would be revealed by his wife.
The first couple has decided not to officially announce the birth, but Mr Sarkozy reacted warmly when plant workers gave him gifts during the visit.
He was given a bib, a dieting book for his wife and a small oak tree to plant, Agence France-Presse news agency reports.
Mr Sarkozy married Italian-born Carla Bruni in 2008, becoming the first French leader to divorce and remarry while in office. She has become the only serving French first lady to have given birth.