Rugby World Cup proves a conundrum for French fans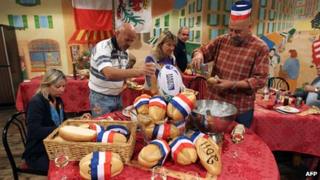 If you want a flavour of how French rugby views the World Cup, then the best advice is to tune in to the Moscato show every evening on RMC Info radio.
Vincent Moscato, international hooker turned actor and comedian, hosts two hours of uproarious chat unpicking the latest goings-on in New Zealand.
With him in the Champs-Elysees studio are Sebastian "Caveman" Chabal and Richard Pool-Jones, a flanker who had a single turn-out for England in the 1990s and then spent the rest of his playing career in Biarritz and Paris.
His idiomatic French is unimpeachable.
The show is always a pungent mix of jocularity, expert opinion shouted at high volume, and constant interruptions.
But this week it moved into overdrive, because this competition in particular, is proving an utter conundrum for the French.
Is their team as wretched as everyone says it is? But if so, how come it is in the final?
Have "Les Bleus" sacrificed all that used to be beautiful in the French game on the altar of that treacherous goddess Victory?
Or are they still guardians of the mythic spark of Gallic originality which only awaits the right moment to burst again into flame?
And will that moment be Sunday?
'Winning ugly'
In the studio passions flare.
Callers, invariably from the south-west - the spiritual home of French rugby - berate coach Marc Lievremont.
An argument breaks out over whether he was right to call his players "une bande de sales gosses" (a gang of dirty kids) for going out drinking after their ghastly victory over Wales.
For some it is a worrying sign of a breakdown of confidence with the squad, but others disagree.
Lievremont knows exactly what he's doing, they say. He's needling his players in order to build up their aggression.
It's French rugby talk.
It's earthy, boisterous, opinionated and full of good humour.
But amid all the shouting, one thing shines through.
There is not one contributor in the studio or on the phone who does not think France have a good chance of winning against New Zealand.
And there is not one contributor who would dream of diluting their devout commitment to the national side, just because they've been "winning ugly".
A quick re-cap then, to remind ourselves how "Les Bleus" got into this odd situation of being at the same time finalists and (outside of France) the most reviled team in the Cup.
After two uninspiring victories against no-hopers Japan and Canada, France were trounced 17-37 by New Zealand and then ignominiously beaten 14-19 by Tonga.
But they qualified for the knock-out stage and redeemed themselves with a tough 19-12 quarter-final win over England.
And then came last Sunday's horrible match against Wales.
France scraped through by nine points to eight against 14 men, but no-one seriously thinks they deserved to win.
The end-result in the past week has been a torrent of abuse from the English-speaking rugby press, furious at the sneaky, unsporting manner of France's progress.
Peter Bills of the New Zealand Herald said the Wales match had killed his love of French rugby.
It was "a disgrace, pathetic, the performance of wimps".
He wrote: "A nation that hurls its great traditions, its roots out of the window is lost, cast aside.
"This French team did that and deserves our complete scorn for doing so."
Here in France, there has also been some soul-searching about whether, in the words of Le Monde's Erwan Le Duc, "gagner salement" (winning ugly) is really winning at all.
At L'Equipe newspaper, feature writer Henri Bru says part of French rugby's image is that its victories are always won through flair and "le beau jeu" (beautiful play).
"It's true there is a divorce now between this image of rugby and the reality of how we've been playing.
"We've got to the final thanks to two things: pragmatism and luck.
"Supposedly that's not in our tradition but in fact if you look at some of the great French victories over the years, they were won not by amazing creative play by the backs, but by big packs and good kickers.
"There's a bit of mythologising in all of this."
In any case, many fans draw hope from another great tradition in French rugby - total inconsistency.
The fact that the side has been playing timorous, cack-handed rugby for the past five matches is actually, according to this logic, a reason for hope.
"I genuinely believe the odds are 55-45 in our favour," says Serge Lacombe, a wine-shop owner and rugby nut who was in New Zealand for the pool stage and watched the defeat against Les Blacks.
"In that match New Zealand smashed us in the first half but people forget that in the second half the scoreline was about even.
"What we have to do is knock them out of their regular game."
Growing popularity
The French are growing more and more interested in rugby.
The game is spreading fast out of its heartlands in the south-west and Paris.
Ten million people watched the match against Wales, and 30-second advertising slots for the final cost 125,000 euros.
Back in the Moscato show studio, the team are arguing whether it is a good thing for Les Bleus that they have come in for so much abuse.
For Richard Pool-Jones, with his impeccable French, the answer is clear. There could be no better way of entering the final.
"If they had played a cracking match against Wales, everyone would have said what a wonderful side they were, and that would have wrecked everything.
"But being hated like this - it's perfect," he says.