US defence chief Leon Panetta warns Nato allies on cuts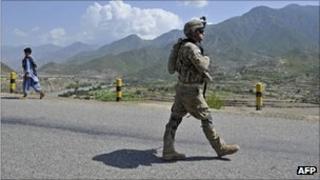 The US defence chief has warned Nato allies they will not be able to rely on the US to cover shortcomings in their defence provision in future.
Leon Panetta said the US was facing cuts of at least $450bn (£290bn) to its mammoth defence budget over the next decade.
He urged European partners not to repeat past mistakes of "hollowing out" forces following military campaigns.
Mr Panetta was speaking in Brussels ahead of talks with Nato counterparts.
He is on a tour that has taken him to Israel, Egypt and now on his first trip to Europe since taking over as defence secretary from Robert Gates in July.
'Dramatic cuts'
Mr Panetta gave his warning as austerity programmes bite on both sides of the Atlantic, and Nato members contemplate swingeing cuts to their defence spending.
He said the Libyan and Afghan conflicts had exposed gaps in alliance capabilities, including a shortage of drones, refuelling tanker aircraft, munitions and strategic transport.
He urged allies to co-operate more closely and pool resources to ensure such gaps were addressed.
"Many might assume that the United States defence budget is so large it can absorb and cover alliance shortcomings - but make no mistake about it, we are facing dramatic cuts with real implications for alliance capability," he said in the speech to the Carnegie Europe think tank in Brussels.
He urged Nato allies to "invest in this alliance", rather than "hollowing out" forces, as he said had happened following previous conflicts including both world wars.
Mr Panetta called proposed cuts to the US defence budget - which at nearly $700bn per year dwarfs all the other Nato members' budgets put together - difficult but "manageable".
But if the US Congress fails to agree on additional cuts by 23 November, large extra spending reductions could be imposed, which Mr Panetta reportedly said "would be devastating to our national security and to yours as well".