Profile: Vladimir Putin
7 June 2013

From the section

Europe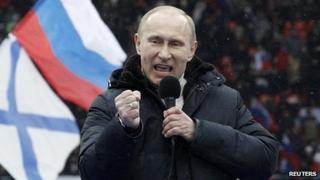 Vladimir Putin, 59, has dominated Russia this century and is one of the most recognisable figures on the international stage.
After a gap of four years, he was re-elected in 2012 for a third presidential term of six years, to the delight of allies and dismay of detractors.
In his first two terms as president, he ushered in a new era of prosperity, fuelled by his country's vast natural resources.
Russians wearied by the turmoil of life under the late Boris Yeltsin welcomed the economic and political stability he represented.
However, the price, in the opinion of many, was the erosion of Russia's fledgling democracy.
Old problems like corruption and separatist unrest in the North Caucasus remain and Mr Putin saw a sharp drop in support at the ballot-box, officially winning 63.6% compared with 71.9% in 2004.
In the months before his re-election, Russia was gripped by the biggest anti-government protests since Soviet times.
KGB man
Born in the Soviet Russian city of Leningrad (now St Petersburg), Vladimir Putin studied law and joined the KGB after graduating from university.
He served as a spy in East Germany, an experience which helped him build and maintain good relations with Berlin when he came to power.
For many Russian liberals, Mr Putin's KGB past is disturbing, with its authoritarian associations, and he makes no secret of his nostalgia for the USSR.
Entering Boris Yeltsin's Kremlin in 1997, he climbed rapidly to the top with stints as chief of the FSB (the successor of the KGB's domestic arm), then prime minister.
It was as prime minister that he oversaw the return of Russian troops to Chechnya in 1999, a military success which bolstered his claim on the Kremlin itself the following year.
Roll-back
Once in the Kremlin, he set about easing liberals out of government, often replacing them with more hardline allies or neutrals seen as little more than yes-men.
Yeltsin-era "oligarchs" such as Boris Berezovsky and Vladimir Gusinsky - businessmen who grew rich in the chaos of the first privatisations - ended up as fugitives living in exile abroad.
Mikhail Khodorkovsky, once head of oil giant Yukos and Russia's richest man, is now in jail for tax evasion.
Mr Putin effectively re-centralised Russia by introducing a system of presidential envoys seen by some as overseers for elected governors.
His allies control much of the media and his rule has seen creeping controls over foreign-funded non-government organisations, which largely focus on exposing human rights abuses.
Mr Putin's Kremlin was accused of abusing its huge energy clout, allegedly punishing fellow ex-Soviet states like Ukraine with price hikes when they leant towards the West.
Further abroad, Mr Putin allied himself with Washington's "war on terror", comparing Chechen separatists to al-Qaeda.
Yet he also opposed the invasion of Iraq and caused consternation in the US by inviting Hamas to Moscow for talks after their Palestinian election victory.
After he was obliged to step down in 2008 to allow a protege, Dmitry Medvedev, to become president in his place, few doubted that he remained in charge, albeit as prime minister.
Fourth term?
Criticism of Mr Putin tends to be directed at aspects of his rule rather than the man himself.
Opponents point to the continuing corruption in Russian officialdom, and particularly among the law enforcement agencies which, at times, appear to be a law unto themselves.
The bloody suppression of the insurgency in Chechnya has not been forgotten and those who argue the crackdown was necessary are confronted by the fact that militant violence continues elsewhere in the North Caucasus, though on a much smaller scale.
Mr Putin was once described as a workaholic by his wife and mother of his two daughters, Lyudmila.
After nearly 30 years of marriage, the couple jointly announced they were divorcing, just over a year into his third term as president. "Vladimir Vladimirovich is completely drowned in work," Mrs Putin said.
The judo black belt appears to relish his macho image, helped by election stunts like flying into Chechnya on a fighter jet in 2000 and appearing at a Russian bikers' rally after the 2011 parliamentary election date was announced.
By law, he could stand for a fourth term in 2018, though he says he has not decided whether or not he wants to.
While he undoubtedly retains considerable support, many Russians are alarmed by the prospect of a possible 12 more years with him at the helm.