UK Russia visit: Readers' views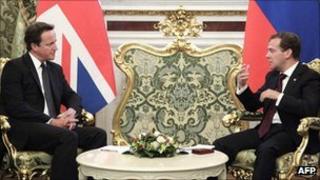 David Cameron has rejected a call by Russia to restore links with its security services, which were frozen after the Alexander Litvinenko murder.
Relations between the UK and Russia have been strained since the Russian dissident's death in London in 2006.
The UK prime minister said in Moscow, during the first talks there by a UK leader since 2005, that the UK would continue to challenge Russia's refusal to extradite the prime suspect. But he said his one-day trip had improved trade links.
Here, readers in Russia and the UK discuss the importance of the visit and current relations between the two countries.
Ross Hunter, 57, English school head, Moscow
I was lucky enough to be in the lecture [given by David Cameron at Moscow State University] this morning. It was pleasantly bland - the real work of diplomacy can only happen without an audience.
David Cameron was right to mention Litvinenko. It is a disgrace that he was murdered on British soil. But whether it was the Russian state is another question.
Our PM was right to warn of the deteriorating business environment, where the courts here serve the highest bidder, or the state.
There are business opportunities for both countries in working closer together. Russia is not finding it easy to move away from its economic dependency on oil and gas.
Don't forget that Russian and British people get on very well, irrespective of whether their governments are on good terms or not.
We share a great sense of irony and mistrust of government. Every time our leaders argue, the Russian people feel closer to the British.
Gregory, scientist, 48, London
David Cameron should not try to compromise with the Russian government. He should demand that Russia develops basic elements of democracy - such as freedom of speech - before improving ties.
I'm a Russian who has lived in the UK for 12 years. I'm devastated by the current state of my motherland. Corruption is everywhere, it is not even hidden.
I think the future is potentially even more bleak. I fear there will be less democracy - less actual elections and they will mean less.
The elite don't invest back in society and so living standards could decline and inequality increase.
I understand why Cameron is trying to push British business in Russia, but I think it is impossible for British businesses to flourish there because of corruption.
The Russian elite desperately need Western recognition to move their assets and relatives abroad in case those elite change. Do not give them an easy ride.
Valentina Antipov, 47, business consultant, Hitchin, Herts
My family is from a long line of emigrants from Russia and I have lived in Britain since finishing university.
The main issue with Russia is that the powers at the top do not represent the personality and desires of the vast majority of the population.
Since communism, the Russian government has been arrogant and too willing to cut off its nose to spite its face.
The Russian people have long since got used to the idea that their history is plagued by dictators, much like we see in China, and South East Asia.
There is a saying in Russia now: "There is nothing wrong in Russia, apart from its roads and leaders."
Cameron has showed he's not afraid to discuss Litvinenko and this is the right attitude. I am particularly glad that he boldly followed his agenda.
Again, Cameron was right in saying that there are areas where UK and Russia could work together well, with mutual gain.
However, Russia with its natural resources, traditionally feels indestructible and capable to sustain itself. At its core it doesn't feel that it needs help from others.
Gennady, Saratov, Russia
It would be in the interests of both countries to overcome legal issues and improve co-operation between the two.
Russia needs the UK. All it wants is a little bit more understanding.
In the whole, Russians deeply appreciate British culture, science and technology.
The UK has a lot to share - and to sell.