Russia pins Soyuz failure to production line defect
9 September 2011

From the section

Europe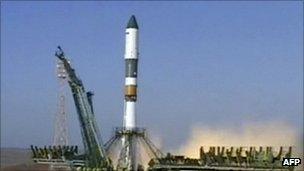 The Russian space agency says a rocket that failed while carrying cargo to the International Space Station on 24 August had a production line defect.
A blocked duct cut the fuel supply to the Soyuz-U's third-stage, causing its engine to shut down prematurely, Roskosmos said in a statement.
The Soyuz failed to put into orbit its cargo ship, which fell back to Earth.
Since the US space shuttle was retired in July, the Russian rockets have become the key link to the station.
They not only fly robotic freighters to the orbiting outpost; they are also the sole means of getting cosmonauts and astronauts to the platform.
Full store
Russia grounded its fleet of Soyuz vehicles after the accident last month, and delayed the next manned mission which was planned for 22 September.
The Roskosmos inquiry report said that the engine defect should not be considered a one-off problem until all other existing Soyuz engines had been re-examined.
No schedule has been given for a resumption of flights.
As a result of the August accident, the space station lost three tonnes of supplies but the ISS, which has been continuously manned for more than a decade, is well-stocked and has ample food to maintain a crew until June next year.
A more pressing issue is the restriction placed on how long astronauts are allowed to stay in space. The limit is 200 days and is tied to the safety certification on their return capsules, which are already in orbit.
This means the platform's residents have little choice about when they must return to Earth.
Half of the current six-strong international crew are due to come home next week, while the others are expected to follow by the end of November. However, the dispatch of a replacement crew is on hold while Russia checks its space launch fleet. If no new crew is launched before the end of November, the ISS will be left temporarily abandoned.
The 24 August failure occurred just over 320 seconds after the Soyuz lifted away from Baikonur.
The early third-stage engine shut-down meant the Progress cargo ship atop the rocket had insufficient speed to make orbit.
Officials reported the ship coming down in Russia's Altai province, some 1,500km northeast of the cosmodrome.
A loud explosion was heard in the region and there were reports of windows being blown out, but there were no injuries on the ground as a result of wreckage coming out of the sky.
The Soyuz rocket has a deep heritage and has traditionally been a very reliable vehicle.
A crewed variant of the rocket has not had an in-flight failure since the mid-seventies.
The type of Soyuz that is used to take cosmonauts and astronauts to the ISS today is known as the Soyuz-FG. It has a near-identical third-stage to the Soyuz-U variant flown on robotic cargo missions - hence the concern.