IMF releases 1.5bn euros to Republic of Ireland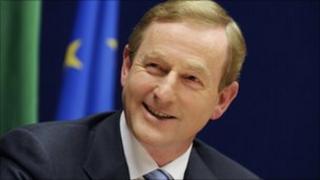 The International Monetary Fund has announced that it is releasing almost 1.5 billion euros (£1.3bn) to the Republic of Ireland as part of the financial aid package for the country.
The IMF said Ireland had maintained "resolute implementation" of its economic restructuring programme aimed at reducing debt.
It said the Irish economy "was showing signs of stabilisation".
European ministers agreed a bailout deal worth about 85bn euros last year.
The Irish government had applied for financial help from the European Union after it conceded the banking crisis in the country had grown too big.
As part of the package, the Irish government drew up an austerity programme detailing four years of tax rises and spending cuts.
The IMF said that the Irish government had adopted a plan in March to reorganise and reduce debts of its domestic banks and said the strategy was "ahead of schedule in some areas".
There had been concerns in markets earlier this year that Ireland might have to extend its existing EU-IMF bailout or seek a second rescue if it could not successfully return to markets on its own.
However, Irish Finance Minister Michael Noonan said this week that should not be the case.
The release of the IMF funds follows the third-stage review of Ireland's progress under the 85bn euros bailout.
In July, the interest rate the Irish government is paying on its EU/IMF bailout loan was reduced.
European leaders in Brussels agreed to lower the rate from around 6% to between 3.5% and 4% as part of a wider EU debt deal.
The length of time to pay back the loan was also extended from seven and a half years to 15 years.
Irish officials estimated the lower rate could mean a 600-700m euros saving per year for the Irish exchequer.