Snooping row over Bettencourt case flares up in France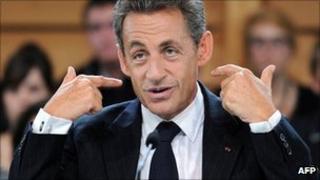 France's government has confirmed the country's secret service obtained phone records of a journalist investigating alleged illegal political donations.
But Interior Minister Claude Gueant denied the counter-intelligence operation amounted to eavesdropping on the reporter for Le Monde newspaper.
Le Monde, a respected centre-left daily, said a journalist's right to protect sources was at stake.
The alleged donations were denied by President Nicolas Sarkozy last year.
It is alleged that his 2007 election campaign received at least 150,000 euros (£132,000; $215,000) from the richest woman in France, 88-year-old Liliane Bettencourt.
Private donors in France may, by law, only give a maximum of 7,500 euros a year to a political party.
The allegations surfaced during lawsuits over the estimated 17bn-euro fortune of Mrs Bettencourt, whose father founded the cosmetics giant L'Oreal.
The latest row comes less than a year before the next presidential election, when Mr Sarkozy is widely expected to stand again.
'Not eavesdropping'
Mr Sarkozy's office said last year it had "never given a single instruction" to investigate Le Monde's sources.
But Mr Gueant confirmed on Thursday that France's counter-intelligence service (DCRI) had obtained the phone records of Le Monde investigative journalist Gerard Davet.
It gathered them in July of last year in order to identify a source in the justice ministry being used by the journalist, he said.
"The gathering of telephone communications is quite different from eavesdropping," the minister added.
The paper itself filed a lawsuit in September accusing Mr Sarkozy's office of spying on its journalist. A formal investigation was opened in May.
The campaigning group Reporters Without Borders has spoken of its concern that French legislation to protect the secrecy of journalistic sources is being "deliberately trampled on by the French intelligence services, not for national security reasons but to protect top government officials from embarrassing revelations".
'Scandalous' allegations
This week saw the launch of a book co-written by Mr Davet called Sarkozy Has Killed Me.
It alleges, apparently for the first time, that Mr Sarkozy personally received campaign donations in cash from Mrs Bettencourt's fortune.
The allegation was based on the words of an investigating judge, Isabelle Prevost-Desprez, who quoted Mrs Bettencourt's former nurse, speaking off the record to the judge's stenographer at an interrogation last year.
However, in an interview published by French magazine Marianne on Wednesday, the nurse denied talking about Mr Sarkozy.
At the same time, she said she had received death threats over her testimony in the legal battles involving Mrs Bettencourt.
Reuters news agency reports that Mrs Bettencourt has not spoken of giving money to Mr Sarkozy and has said she has no memory of giving money to the former treasurer of his UMP party, Eric Woerth.
Speaking to the same news agency, a spokesman for Mr Sarkozy's office described the allegations in the new book as "scandalous, unfounded and untruthful".
Last year, President Sarkozy went on TV to condemn the allegations of illegal donations as lies and calumny, aimed at destabilising his government.