Turkey match-fixing: Season postponed until September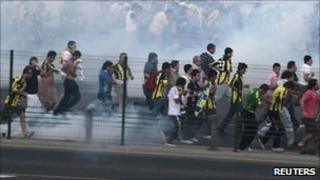 Turkey's football federation has postponed the start of the season by a month amid an investigation into alleged match-fixing.
The federation said it had decided to begin the season on 9 September rather than 5 August as planned.
The probe has already resulted in detention of 31 suspects, including the president of league champion Fenerbahce, Aziz Yildirim.
Police say bribery and intimidation were used to fix 19 games.
'Damage'
In a statement, the federation announced the postponement and said it would meet with club chairmen on Tuesday.
The move came hours after the federation's president, Mehmet Aydinlar, met the prosecutor in charge of the investigation, according to AP news agency.
Fenerbahce had previously warned that such a decision would further damage the club.
Officials from Istanbul club Besiktas and Black Sea powerhouse Trabzonspor have also been jailed pending trial.
Earlier this month, European soccer's governing body, Uefa, said that it had no reason to ban any Turkish club from competitions.
Turkish media have speculated that the allegations being investigated include a striker being offered money to not score, a goalkeeper deliberately failing to save a goal, and the selection of a particular referee.