F1 driver Adrian Sutil may face legal action
17 May 2011

From the section

Europe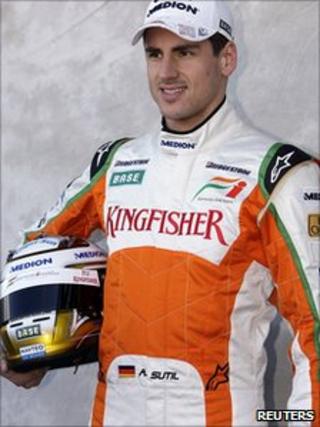 Force India driver Adrian Sutil may face legal action after a nightclub incident at last month's Chinese Formula One Grand Prix.
Last week Mr Sutil issued a statement apologising for the incident, without giving any details about what happened.
But a lawyer for Renault F1 executive Eric Lux said he would file a criminal complaint against Mr Sutil for physical assault and grievous bodily harm.
He said the FIA, F1's governing body, and Force India will be notified.
German racing driver Mr Sutil, 28, issued a statement last week in which he confirmed attending the party after the race in which he "unintentionally injured another guest".
The statement added: "I have unreservedly apologised for this. As this is a private matter, which has nothing to do with Formula One, I will make no further public comments on this subject."
However a lawyer for Mr Lux, the Luxembourg-based chief executive of Genii Capital which owns the Renault F1 team, said: "In the view of the recent events which occurred in Shanghai on 17 April, Mr Eric Lux has decided to file a criminal complaint against... Adrian Sutil for physical assault and grievous bodily harm."
Lawyer Marc Henzelin said Mr Lux "does not exclude commencing an action against any other persons involved in this matter".
Mr Henzelin gave no details about the incident.
A statement from Force India said the team was "aware of statements made" by both Mr Sutil and Mr Lux and it would "continue to monitor the situation", but it "remains fully committed to its driver line-up at this weekend's Spanish Grand Prix".