Hungary adjourns Nazi war crimes trial of Sandor Kepiro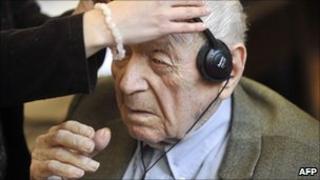 The war crimes trial of a 97-year-old Hungarian Nazi suspect has been adjourned to allow for his hearing and mental state to be assessed.
Sandor Kepiro, a former police captain, is accused of massacring civilians in Serbia in 1942. He denies the charges.
He has appeared in court in Budapest looking frail and has complained that he cannot hear the proceedings.
The judge said he had concerns Mr Kepiro was not fully aware of what was happening in court.
"I am ordering an examination of his hearing and his mental state," said Judge Bela Varga.
"We have to determine whether and how much the defendant is able to understand what is said to him."
Mr Kepiro had told the court that he "heard but did not understand" what the judge was saying.
His apparent inability to hear had slowed down the proceedings.
Before the adjournment, historian Tibor Zinner told the court he had doubts about the credibility of some documentary evidence, which he said had numerous omissions and translation errors.
Evidence in doubt
The court will meet again on 19 May to determine whether the trial can continue.
More than 1,200 Jewish, Serb and Roma civilians were murdered over three days by Hungarian forces in a notorious massacre in the city of Novi Sad.
Prosecutors say Mr Kepiro was directly responsible for the deaths of 36 Jews and Serbs - including 30 who were put on a lorry on the defendant's orders and taken away and shot.
He was convicted of involvement in the killings in Hungary in 1944 but his conviction was quashed by the fascist government.
He fled to Argentina, where he was tracked down by the Simon Wiesenthal Center, which listed him as the world's most wanted Nazi.
Mr Kepiro said he had been "the only person to refuse the order to use firearms", and that he had intervened to save five people about to be killed by a corporal.