Germany's Guttenberg 'deliberately' plagiarised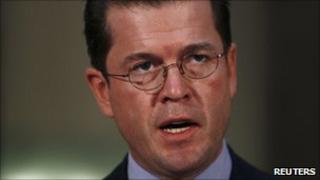 Germany's former defence minister "deliberately" plagiarised his doctoral thesis, a committee has found.
Karl-Theodor zu Guttenberg resigned in March after admitting to "serious mistakes" in his 2006 legal dissertation, but denied cheating.
An investigation by Bayreuth University found the 39-year-old had "grossly violated standard research practices and in so doing deliberately deceived".
"It was obvious that plagiarism was involved," the committee concluded.
'Zu Copyberg'
Mr Guttenberg, a baron, was one of the most popular ministers in Chancellor Angela Merkel's cabinet and tipped by some as a future German leader.
But he came under pressure after a Bremen University law professor began reviewing his thesis with the aid of the internet.
Allegations arose that he had lifted a passage from a newspaper article word-for-word, and included a paragraph from the US embassy's website without attribution.
Upon further scrutiny, it was claimed more than half of the 475-page thesis featured large sections borrowed from others' work.
The scandal led to the minister being nicknamed Baron Cut-and-Paste, Zu Copyberg and Zu Googleberg by the German media.
More than 50,000 academics signed a letter objecting to his continued role in the government.
Mr Guttenberg eventually stepped down in March - a decision he called "the most painful step of my life".
But opinion polls have suggested he remains popular in Germany, where reports say his Christian Social Union (CSU) party would like him to return to frontline politics.