Q&A: Schengen Agreement
4 March 2013

From the section

Europe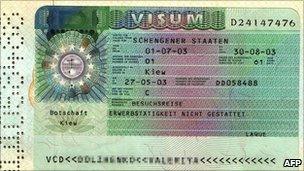 The Schengen Agreement abolished internal borders, enabling passport-free movement between a large number of European countries.
Schengen is now under review because in 2011 there were surges in illegal migration from Africa and Asia, via Italy and Greece in particular.
The BBC News website explains what the Schengen Agreement consists of and how it came about.
Which countries have removed internal borders?
There are 26 countries in Schengen.
Belgium, France, Germany, Luxembourg, the Netherlands, Portugal and Spain implemented the agreement in 1995. They were followed by Italy and Austria in 1997, Greece in 2000, and Denmark, Sweden, Finland, Norway and Iceland in 2001. (Norway and Iceland are not in the EU.)
Nine more EU countries joined in 2007, after the EU's eastward enlargement in 2004. They are: the Czech Republic, Estonia, Hungary, Lithuania, Latvia, Malta, Poland, Slovakia and Slovenia.
Switzerland, which is not in the EU, implemented the agreement in December 2008. And in December 2011 tiny Liechtenstein - outside the EU, like its neighbour Switzerland - also joined Schengen.
Are other countries going to remove border checks too?
Andorra and San Marino are not part of Schengen, but they no longer have checks at their borders.
There is no date yet for Cyprus, which joined the EU in 2004, or for Bulgaria and Romania, which joined in 2007.
According to the European Parliament, Bulgaria and Romania have brought their border security up to EU standards and are fit to join Schengen. But not all EU governments agree, and a decision on their bid to join has been postponed.
Which EU countries are not party to the Schengen agreement?
The UK and Republic of Ireland have opted out. The UK wants to maintain its own borders, and Dublin prefers to preserve its free movement arrangement with the UK - called the Common Travel Area - rather than join Schengen.
The UK and Ireland began taking part in some aspects of the Schengen agreement, such as the Schengen Information System (SIS), from 2000 and 2002 respectively.
What else, apart from removal of internal borders, does Schengen involve?
The main feature is the creation of a single external border, and a single set of rules for policing the border. Among the other measures are:
Common rules on asylum;
Hot pursuit - police have the right to chase suspected criminals across borders;
Separation in airports of people travelling within the Schengen area from other passengers;
Common list of countries whose nationals require visas;
Creation of the Schengen Information System (SIS), which allows police stations and consulates to access a shared database of wanted or undesirable people and stolen objects;
Joint efforts to fight drug-related crime.
In what circumstances can countries reimpose border controls?
Under article 2.2 of the treaty, signatories may reinstate border controls for a short period, if this is necessary for "public policy or national security" reasons.
The clause says "contracting parties [Schengen states] may, after consulting the other contracting parties, decide that for a limited period national border checks appropriate to the situation shall be carried out at internal borders".
They can do so if necessary immediately, and then inform the other Schengen members.
France did this around the 60th anniversary of D-Day in June 2004 and after the bomb attacks on London in 2005.
Portugal and Germany have reimposed border controls for major sporting events, such as the Fifa World Cup.
What problems have arisen with Schengen?
The "Arab Spring" uprisings in North Africa in 2011 created tensions between France and Italy over Schengen.
In mid-April 2011 France shut its borders to trains carrying African migrants from Italy - a move that was legal under Schengen, according to the European Commission.
Earlier Italy had granted six-month residence permits to more than 20,000 of the migrants, most of them Tunisians, who had arrived on Italian soil since 1 January 2011.
Italy accused France of violating Schengen, and both countries called for the Schengen rules on internal border controls to be modified.
The European Commission is amending the rules to address this, focusing on:
Guidelines on matters such as the issuing of travel documents and residence permits, so that Schengen countries interpret the rules in the same way
An improved Schengen "evaluation mechanism", including fact-finding missions, to deal with deficiencies in a country's border controls before a crisis arises
A centralised EU-level mechanism to allow countries to reimpose border controls in exceptional circumstances, applying commonly agreed standards.
Greece's land border with Turkey became a particular problem in 2011.
The EU sent 175 Frontex border guards to help police the border in late 2010, and they stayed there, even though the help was first envisaged as temporary.
Frontex, an agency set up to help control the EU's external borders, says more than 55,000 illegal migrants were detected in Greece's Evros border region in 2011. That was a 17% increase compared with 2010. It is the main entry point into the EU for migrants from Asia.
A further challenge to Schengen in 2011 came from Denmark, which announced that it would reinstate control booths on its borders, to do random checks of cars and passports. But the plan was later shelved by the Social Democrats, who replaced the centre-right coalition in September 2011.
The centre-right government in the Netherlands has installed video surveillance cameras on its borders with Belgium and Germany - and insists they are allowed under Schengen. The cameras, introduced in January 2012, are to help tackle organised crime, the government says.
How are non-EU citizens affected?
A Schengen visa is necessary to travel to a Schengen country or within the area. The price of a short-stay visa is 60 euros (£53) and for some Europeans that means a substantial extra cost. Belarusians had been used to paying only five euros for a trip to neighbouring Lithuania.
The visa costs 35 euros for Russians, Ukrainians and citizens of non-EU Balkan states, under visa facilitation agreements.
The EU has lifted the short-stay visa requirement for citizens of Albania, Bosnia-Hercegovina, Macedonia, Montenegro and Serbia who have biometric passports. These Balkan nations all hope to join the EU. Kosovo is excluded from the arrangement.
Citizens of Croatia, set to join the EU in mid-2013, can travel to nearby Italy, Hungary and Slovenia with just an ID card but still need passports to enter other Schengen states.
Why is it called the Schengen Agreement?
This is the name of the town in Luxembourg, where it was signed in 1985. Actually, the signing itself took place on a boat in the middle of the Moselle river, which forms the border between Luxembourg and Germany.
The Convention applying the Schengen Agreement took another five years to negotiate and there was a further time-lag before the convention was implemented.
Is Schengen an EU initiative?
It began as an attempt to give practical meaning to the European Union's longstanding goal of ensuring "free movement of persons".
However, while all countries agreed that there should be no border checks on EU nationals, they could not agree whether non-EU nationals should enjoy the same privileges when travelling inside the EU.
As a result, the Schengen agreement was originally signed outside the auspices of the EU (by France, Germany and the Benelux countries).
It was incorporated into the framework of the EU as part of the Amsterdam Treaty in 1997. That means the agreement can be modified under the EU's normal legislative process.
What is the Schengen Information System?
The SIS enables police forces across Europe to share data on law enforcement. It can cover stolen cars, court proceedings and missing persons. The enormous SIS database, in the French city of Strasbourg, is due to become even larger with the introduction of SIS II.
That would enable police to link information such as alerts involving a missing child and a stolen car. The UK says it will only sign up to SIS II once it is happy the system works alongside the Police National Computer.