Jacques Chirac's wife denies Alzheimer's report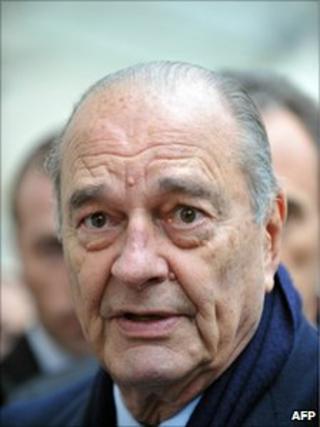 The wife of French former President Jacques Chirac has denied reports that he is suffering from Alzheimer's disease.
Bernadette Chirac told French radio that she was "scandalised" by the claims, little more than a month before her husband's trial for corruption.
Mr Chirac, president from 1995 to 2007, is facing two sets of allegations from his time as mayor of Paris.
A court in Paris confirmed on Monday that the trial would start on 7 March.
On Sunday, the newspaper Journal du Dimanche reported that the former president, 78, had suffered from memory lapses, according to unnamed friends, and added that his wife feared he had Alzheimer's.
But Mrs Chirac told French station Europe 1 on Monday that the reports were "a lie" and that she had "never spoken of that disease of Alzheimer's regarding my husband".
"If my husband was suffering from that illness I wouldn't hesitate in saying so," she said.
Mr Chirac himself told a reporter from BFMTV outside his home that his health was fine: "Do I look as if I'm not talking well? I am very well, thank you. I wish you the same good health."
The former president is accused of embezzlement and breach of trust in a bogus jobs scandal. It involved the funding of party allies with taxpayers' money while he was mayor of Paris. A further charge of illegal conflict of interest was added last November.
Mr Chirac's lawyer, Jean Veil, tried on Monday to have the case delayed pending a complaint by anti-corruption group Anticor. Last September, the Paris city authorities agreed to drop a civil suit in return for a 2.2m euro (£1.89m) payment from Mr Chirac and the ruling UMP party.
The court rejected Mr Veil's request, described by Anticor as "a manipulation".
Mrs Chirac insisted that her husband would go on trial: "He has always said that he wanted to be treated under the law just as anyone else. He must be treated no better but no worse than anyone else too."
While he did suffer from some problems with walking and hearing, Mrs Chirac said it was not clear whether these were linked to his age or a vascular condition for which he had treatment in 2005.