Inside Europe
Top Stories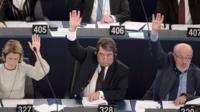 Euro MPs increase their allowances to cover staff costs while rejecting a move to subject their expenses to an obligatory audit.
EU Commission President Jean-Claude Juncker says he wants a "fair deal" for the UK and does not rule out EU treaty change.
A new EU-wide alert system to deal with road accidents, called eCall, gets the go-ahead from Euro MPs.