Inside Europe
Top Stories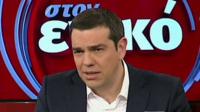 Prime Minister Alexis Tsipras says Greece is in the final stretch of talks with the EU and that he believes an interim deal will by in place by 9 May.
A new EU-wide alert system to deal with road accidents, called eCall, gets the go-ahead from Euro MPs.
Human rights groups say new measures agreed by the EU to tackle the migrant crisis in the Mediterranean do not go far enough.