Inside Europe
Top Stories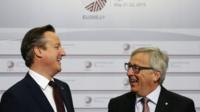 David Cameron is starting his push for EU reform as he meets other European leaders for the first time since winning the general election.
EU ministers approve plans to establish a naval force to combat people-smugglers operating from Libya.
What is the Transatlantic Trade and Investment Partnership and why does it matter?