Inside Europe
Top Stories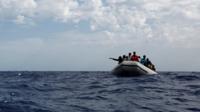 Human rights groups say new measures agreed by the EU to tackle the migrant crisis in the Mediterranean do not go far enough.
The EU approves the sale of 17 more genetically modified (GM) crops - mostly for use in animal feed.
If Greece fails to reach a deal with its eurozone partners on 24 April, how likely is it to default and perhaps leave the euro?