Obituary: Giulio Andreotti, seven times Italian PM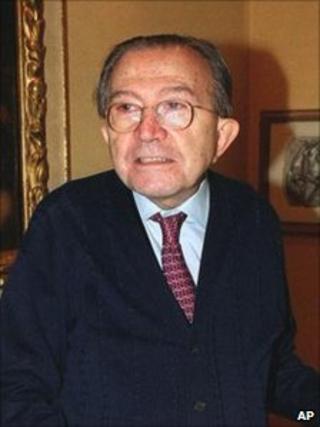 During a political career which began in 1945, Giulio Andreotti served as Italy's prime minister seven times. But he could not shake off allegations of corruption and collusion with the Mafia.
To many Italians, Giulio Andreotti was a fearless bulwark against communism, who served his country diligently over the course of seven decades.
Many others, though, regarded him as the living embodiment of an Italian political system riddled with corruption and, most worrying of all, a man with direct links to organised crime.
A quiet and unassuming - some said courtly - figure, Andreotti - known to his enemies as Beelzebub - was not one for show.
Vatican visit
But, behind closed doors, he proved himself a master of the baroque game that is Italian politics.
A Christian Democrat parliamentarian since 1946, he first entered the cabinet the following year and proceeded to hold virtually every post open to him.
No wonder, then, that some, in reference to Caesar, called Andreotti the Eternal Giulio.
Born in 1919, Andreotti was brought up primarily by his cold, distant, mother after his father, a primary school teacher, died when his son was young.
His solace, eventually to become his power base and most important constituency, was the Roman Catholic Church.
And Andreotti's aunt left him the creed by which he would order his life: "Never over-dramatise things; everything can be fixed; keep a certain detachment from everything; the important things in life are very few."
Aged just eight, he joined a group of Belgian tourists at the Vatican, before giving them the slip and finding himself meeting Pope Pius XI.
Murder
And it was at the Vatican that his life changed in 1938 when, searching for a book on the naval power of the former Papal States in the Vatican library, he met the veteran politician Alcide de Gasperi, then being sheltered by the Pope from Mussolini.
The old man asked Andreotti if he had nothing better to do or to read. Andreotti was moved to remould his life, becoming head of the Catholic student movement.
When de Gasperi became prime minister in 1945, he took Andreotti along with him as an aide.
At the age of just 28, he became a junior minister; he was minister of defence in 1959, aged 40, and prime minister for the first time in 1972.
Perhaps Andreotti's greatest achievement was transforming Italy's relations with its fellow Mediterranean countries, encouraging European integration and promoting dialogue with countries in the Middle East.
But his genial discussions with leaders like Yasser Arafat and Col Gaddafi strained Italy's relations with the United States.
It was Andreotti's other associates who proved to be his greatest liability.
Men like the disgraced financiers, Michele Sindona and Licio Gelli - he also headed the P-2 masonic lodge - and Roberto Calvi, the banker whose body was discovered hanging from Blackfriars Bridge in London in June 1982, tainted Andreotti's reputation.
Sentence overturned
And, as his rivals departed the scene, dying of old age, being thrown out of office, assassinated or embroiled in scandal, Andreotti remained, seemingly impervious to criticism or taint.
He can even be said to have decisively influenced UK politics. At the 1990 Rome summit, it was Andreotti who sprung a political ambush on Margaret Thatcher, gaining the support of EU governments for a plan to bring forward the date of European Monetary Union.
But, in 1996, Andreotti's world turned upside down. A mafia supergrass alleged in court that Andreotti had met, and embraced, the boss of all bosses, "Toto" Riina, at a secret meeting in the Sicilian city of Palermo in 1987.
And things got worse when he was put on trial, after allegedly ordering the murder of a journalist who had threatened to publish details of his alleged Mafia involvement.
Andreotti was given a 24-year jail sentence for the killing, but this was overturned on appeal.
In 2004, however, Italy's top appeals court did uphold a verdict that he had "consciously and deliberately cultivated a stable relationship" with Mafia bosses right up to 1980.
Yet, even though a lower court did find him guilty of criminal conspiracy, Andreotti evaded conviction because the offence had lapsed under Italy's statute of limitations.
And the charges against him which related to the period after 1980 were also dismissed because of lack of evidence.
Andreotti remained a political player right up to the end. In 2006, following Silvio Berlusconi's defeat in a general election, Andreotti was narrowly defeated in the election for speaker of the senate. He was 87.
The man who once famously quipped that "power wears out those who do not have it" proved the value of his words.
But his many achievements and sheer staying-power in what is one of the world's more volatile democracies could not save Giulio Andreotti from being tarnished by allegations of sleaze, corruption and worse.