Word cloud: Chinese plenum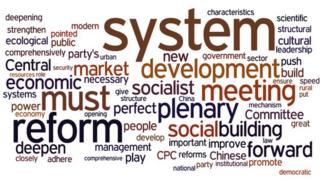 Deepening reform was the theme of China's Third Plenum, and this is reflected in a word cloud of the final communiqué outlining changes discussed at its most important yearly planning meeting.
BBC Monitoring's English translation of the communiqué, as provided by Xinhua news agency, runs to 3,800 words. The document says that "reform" is the most distinctive feature of contemporary China, and even calls it a "magic weapon".
The word cloud reflects an emphasis on "market" and "economic" rather than other kinds of reform. Yet the word "development" crops up even more frequently.
The official Xinhua news agency highlighted that China would set up a "national security committee" to protect the state and guard against social unrest. But the word "security" comes up only a few times, chiefly in a brief passage on the need to "ensure that the people live and work in peace and contentment and that society is peaceful and orderly".
The communiqué also brings up some classic rhetoric from the past, such as the need to "hold high the great banner of socialism with Chinese characteristics".
BBC Monitoring reports and analyses news from TV, radio, web and print media around the world. For more reports from BBC Monitoring, click here. You can follow BBC Monitoring on Twitter and Facebook.