Indonesian police probe 'baby-smuggling ring'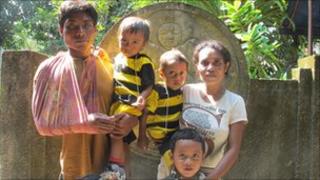 Police in Indonesia say they are investigating a suspected baby-smuggling ring that is thought to have taken some infants to Singapore and sold them on to third countries.
They said seven people had been arrested, including midwives, and one mother is under suspicion of selling her child. Three babies were recovered.
Investigators said the children had been bought from poor families for a few hundred dollars each.
They also found tickets for Singapore.
A child protection official said there was evidence that some children had been sold to adoptive parents in various countries, and that the practice had been going on since the mid-1990s.
"Cases that we heard were babies being sold to Australia, Eastern Europe, Singapore, Taiwan and Malaysia," Arist Merdeka Sirait told the BBC.
One written document providing evidence of the practice had been found, he added.
'Better lives'
Police in western Jakarta said earlier in the week that they had uncovered a criminal network and arrested seven people including midwives last month.
Spokesman Rikwanto said police suspected babies taken from Indonesian hospitals and given false identities had been listed in the manifests of several flights to Singapore.
"Our investigation has found that the women would buy the babies from poor mothers, promising financial incentives and telling them the babies would live better lives with wealthier families," he said, quoted by AFP news agency.
Expectant mothers were paid up to 20m rupiahs ($2,000; £1,275), or up to 40m rupiahs if the children were "beautiful", Mr Rikwanto said.
Police said on Thursday that a mother of one of the allegedly smuggled children was under suspicion, after telling them that she had given her baby to a midwife because she did not have the money to pay for her delivery, the Jakarta Post newspaper reported.
She reportedly told police that she had intended to get the baby back when she was able to pay the midwife, but when she tried to do so the midwife told her the baby had been sold.
Mr Sirait's national commission for child protection has in the past reported numerous cases of babies being kept by hospitals because parents were unable to pay their bills.