Male giant panda, Bao Bao, dies at Berlin zoo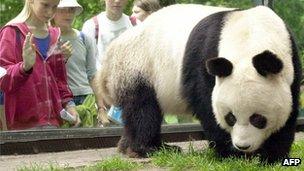 One of the oldest male giant pandas in the world has died at Berlin zoo aged 34.
Bao Bao, given to West Germany by China in 1980 - in one of a series of gifts of the bears dubbed "panda diplomacy" - died early on Wednesday, the zoo said.
He had noticeably declined in recent months, the zoo said. An autopsy will determine the cause of death.
Bao Bao was the zoo's only panda, and several attempts to mate him with females were unsuccessful.
Born in 1978, he was given to the West German Chancellor Helmut Schmidt by the then Chinese leader Hua Guofeng during a state visit in 1980.
He "quickly conquered the hearts of the Berlin people", zoo official Heiner Kloes said in a statement.
He was presented along with a female panda, Tjen Tjen, but she died in 1984 without giving birth.
Between 1991 and 1993 he was loaned to London zoo in another unsuccessful attempt to mate him, this time with a female panda called Ming Ming.
Another female panda, Yan Yan, was sent to Berlin in 1995 following a visit to Germany by the Chinese leader at the time, Li Peng, but once again no baby pandas were produced.
"Bao Bao will never be forgotten," Mr Kloes said.