New Zealand skydive crash report blames overloading
9 May 2012

From the section

Asia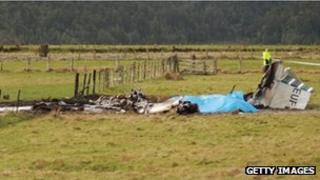 An investigation into a skydiving plane crash in New Zealand that killed nine people has criticised both the owner and aviation regulators.
Modifications to the plane - previously used in agriculture - had been ''poorly managed'', investigators found.
The plane's owner and operator did not complete proper calculations and aviation authorities did not detect discrepancies, the report said.
As a result, the plane was overloaded when full, the report found.
Four tourists and five New Zealanders were killed in the September 2010 accident.
The light aircraft crashed immediately after take-off from Fox Glacier on the South Island and burst into flames.
The plane, a Fletcher fixed-wing aircraft, was operated by tourism company Skydive New Zealand. It was modified three months before the incident.
The owner and operator did not ''complete any weight and balance calculations'', said the report by the Transport Accident Investigation Commission (TAIC).
The New Zealand Civil Aviation Authority (CAA), which ''had approved the change in category'' for the plane, did not detect discrepancies in the aircraft's documentation, the commission found.
''As a result the aeroplane was being flown outside its loading limits every time it carried a full load of eight parachutists,'' it added.
When the accident occurred, the aircraft's centre of gravity was ''well rear'' and it ''became airborne at too low a speed to be controllable''.
The accident was thought to be New Zealand's worst aviation disaster in 17 years.
'Significant changes'
One of the four tourists killed was Brad Coker, 24, from Farnborough in the United Kingdom.
Mr Coker's father, Chris, has written to New Zealand Prime Minister John Key seeking improvements in aviation safety and adventure tourism regulations.
"I don't want another father anywhere in the world getting a knock on the door by police telling them their beloved son or daughter is dead," he told reporters.
Since the accident, the CAA had made ''significant changes'' to rules and regulations, New Zealand media reported, including a new adventure aviation rule introduced in November 2011.
The other foreigners killed were named as Patrick Byrne, 26, from County Wexford, Ireland; Glen Bourke, 18, from Melbourne, Australia; and Annita Kirsten, 23, from Germany.
The New Zealanders who died were pilot Chaminda Senadhira, 33, and skydiving instructors Adam Bennett, 47, Michael Suter, 32, Christopher McDonald, 62, and Rodney Miller, 55, from Greymouth.
They were all from Fox Glacier and well-known in the small town.