Cyclone Lua batters north-west Australian coast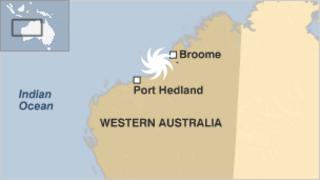 A tropical cyclone has battered communities along Western Australia's north-west coast with torrential rain and damaging winds.
There have been reports of extensive damage on the Pilbara coast but so far no casualties, local media says.
Cyclone Lua crossed the coast as a category four storm but has weakened to category one as it moves inland.
Australia's meteorology bureau says gusts of up 100km/h (60mph) are still possible near the cyclone centre.
It has issued warnings for the eastern Gascoyne, western Interior and northern Goldfields areas during Sunday.
Early on Saturday, Lua crossed the coast between Port Hedland and Broome and caused extensive damage to some remote Pilbara towns, uprooting trees and damaging buildings, Australian broadcaster ABC reported.
Recovery teams were on their way to assess the damage.
As the cyclone gathered intensity and swept in off the Indian Ocean, Australia's main iron ore mines - which are some of the biggest in the world - shut down.
The mines are located around Port Hedland on the Pilbara coast.
The last iron ore vessels able to leave Port Hedland before the storm arrived sailed on Friday morning.
Global Miners Rio Tinto and BHP Billiton both have major operations in the area and around 400m tonnes of iron ore passes through the ports each year.
Australia's cyclone season typically runs from November to April and can affect oil and natural gas production, as well as mining and port operations.