New Caledonia territory profile - Leaders
Head of state: (French) President Francois Hollande, represented by a high commissioner
President: Cynthia Ligeard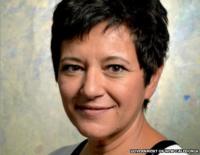 Cynthia Ligeard became president following legislative elections in 2014, in which parties opposing independence from France retained their majority, with 29 out of 54 seats.
Ms Ligeard's Unity Front - an alliance of smaller anti-independence parties formed in 2013 - came second, behind the Caledonia Together party of Philippe Gomes, who was president between 2007 and 2009 and also favours staying with France.
Elected under a working agreement between Ms Ligeard, Mr Gomes and a third anti-independence party, Ms Ligeard has set economic and social reform as her main goals.
The Future Together party of her predecessor, Harold Martin, which won two seats as part of the Unity Front, had ended the dominance of another anti-independence party, Rally-UMP, in 2004, before Mr Gomes broke away from it to form the more successful Caledonia Together party.
The president of New Caledonia is elected by Congress.
At a national level, New Caledonia is represented in the French Parliament by two deputies and two senators.