Tonga profile - Leaders
3 October 2014

From the section

Asia
Head of state: King George Tupou VI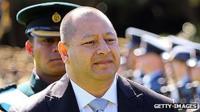 George Tupou VI succeeded to the throne on the death of his elder brother, the bachelor George Tupou V, in March 2012.
The new King was Tonga's High Commissioner (ambassador) to Australia from 2008, having served as prime minister in 2000-2006. He quit as prime minister in the face of violent pro-democracy protests in February 2006, and was succeeded by Tonga's first non-royal and non-aristocratic head of government, Feleti Sevele.
The late King George Tupou V ushered in parliamentary democracy in 2010, ending centuries of feudal dominance of government.
Prime minister: Lord Tu'ivakano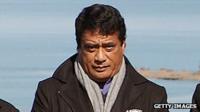 Lord Tu'ivakano became the country's first prime minister to be elected by parliament rather than appointed by the king in December 2010.
Tu'ivakano, a former speaker of Parliament, won 14 votes - two more than pro-democracy leader Akalisi Pohiva - in the ballot among the 26 members of the Tongan house of representatives.
Tu'ivakano, the minister for education and training in the former government, replaced Feleti Seveli.
Under Tonga's new constitution, voters directly elected 17 seats in parliament, while nine were reserved for nobles.
Previously, the tiny Pacific kingdom was run by a parliament dominated by a clique of nobles selected by the king, who also chose the prime minister and cabinet.
The swing towards democracy followed riots in the capital Nuku'alofa in 2006, which claimed eight lives and destroyed much of the business centre as people protested against the slow pace of political reform.
Since coming to power, the prime minister has faced criticism for making Tonga too dependent on aid and investment from China.
Lord Tu'ivakano says Tonga benefits from Chinese involvement in its economy, and that Chinese banks off the lowest interest rates.