Kazakhstan profile - Media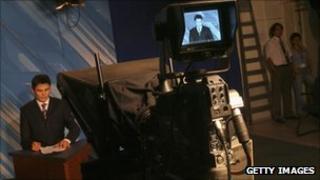 Opposition media faced unprecedented legal pressure in late 2012 when prosecutors sought the closure of leading outlets over alleged extremism and claims that their output had promoted regime change.
Targets included the Respublika newspaper group, K+TV and the Stan-TV news website.
Observers linked the crackdown to the outlets' coverage of the December 2011 deadly clashes between police and striking oil workers in the city of Zhanaozen.
Reporters Without Borders said the move was an "unprecedented blow to pluralism" and an "outrageous misuse" of the justice system.
The action appeared to be aimed at driving national independent and opposition media into extinction, said the US-based Committee to Protect Journalists.
There are 250 TV and radio stations, according to official figures. The government operates national networks. Russian stations are carried via cable and satellite.
Most media outlets are controlled or influenced by members of the president's family, including his daughter and her husband, and other powerful groups. Many of the 1,000-plus newspaper titles are government-run and the state controls printing presses.
There were 7.9 million internet users by June 2012 (InternetWorldStats). Opposition or sensitive political content is selectively filtered.
Popular blog platform LiveJournal and some 20 other sites were blocked in 2011 on the grounds that they contributed to "terrorism".
Twitter, Facebook and YouTube audience share is less than 0.4%. The most popular social website is Vkontakte. There are several thousand Kazakh blogs and a handful of local blogging platforms.
The press
Television
Radio
News agencies