Nauru country profile - Overview
6 February 2015

From the section

Asia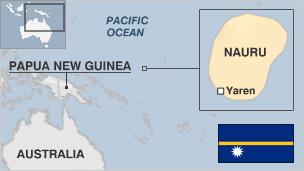 Named Pleasant Island by its first European visitors, the former British colony of Nauru is the world's smallest republic.
The tiny Pacific island once generated a per capita income out of proportion to its size. But the source of this wealth - phosphates - is nearing exhaustion, leaving the islanders facing an uncertain future.
While the mining of 1,000 years' worth of fossilised bird droppings has been lucrative, Nauru relies on imports for almost everything - from food and water to fuel.
Moreover, recent financial crises have precipitated a slide into bankruptcy and a dependence on aid. The country had to sell off its assets in Australia to pay off a multi-million dollar debt to a US corporation.
Nauru's government has tried to develop alternative industries, including tourism and offshore banking. A world body, set up to fight money-laundering, removed Nauru from its list of uncooperative states in late 2005.
In 2001 Nauru signed an agreement with Australia to accommodate asylum seekers on the island, in return for millions of dollars in aid. Australia ended its controversial "Pacific Solution" of detaining asylum seekers on islands in 2008, but reversed that decision and resumed the practice in September 2012, sparking fresh criticism from rights groups.
Australia has also sent financial experts to Nauru to help it overcome its problems.