Production 'resumes' at strike-hit Indonesia mine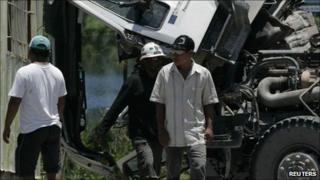 Operators of the Freeport-McMoran mine in Papua, Indonesia, say partial production has resumed despite roadblocks and a damaged pipeline.
Thousands of workers have been on strike at the huge gold and copper mine since mid-September over a pay dispute.
On Monday the mine was shut after a pipeline was damaged in what the company said was an act of sabotage.
The pipeline has been fixed, but production remained "at reduced levels", a spokesman reportedly said.
Ramdani Sirait, a spokesman for Freeport's Indonesian subsidiary, told AFP news agency hundreds of workers were still blocking the entrance to the mine to prevent supplies reaching some 2,000 replacement workers and their families.
"The situation is still tense and workers and their families are living in fear," he added.
"If this situation continues, it's possible we may have to stop production."
A spokeswoman for the striking workers insisted to Reuters news agency that they did not damage the pipeline.
Tensions mount
Reports said the company was contemplating a "controlled shut-down" of the mine, after the worst disruption to production since the dispute began.
Workers currently paid up to $3.50 per hour are demanding wages equal to those paid to employees in other mines around the world operated by the US mining giant - an eightfold increase, reports said.
The company is said to have offered a 25% raise.
Tensions increased early last week, when at least one protester died and several others were wounded when police fired shots during clashes with the striking workers.
They were then ratcheted up again on Friday, when three contract workers were killed by unknown assailants in an ambush.