Australian university returns Aboriginal bones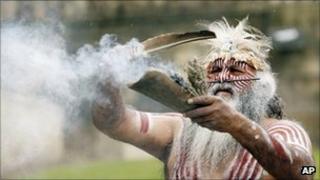 One of the largest returns of Australian Aboriginal remains has been commemorated at the University of Sydney.
A ceremony marked the return of the 250th set of ancestral bones held by the university's Museum of Anatomy.
Community elders had travelled from two outback towns for the occasion.
The remains of six Aborigines began their journey home with a traditional ceremony to cleanse the soul.
The bones were wrapped in tree bark from their local communities to protect the spirits of the dead, before they were handed back to tribal elders from the towns of Armidale and Tamworth in New South Wales.
For years the skeletons of the first Australians were collected around the world.
Aborigines were often considered to be anthropological oddities - their skull size and bone structure attracted great academic interest.
Other remains were found during construction work or by farmers and given to institutions for safekeeping.
Since the mid-1990s the University of Sydney's Museum of Anatomy has been gradually returning its collection of body parts to the descendants of the dead, thanks to very detailed historic records.
Today the 250th set of remains was officially returned. Professor Shane Houston, a deputy vice chancellor at the university, said it had been a day of mixed emotions.
"Aboriginal communities will remember the torment that many of our people have endured, and in some cases still do. But there is celebration of the fact that these ancestors are returning home," he said.
"So, it is an incredibly moving ceremony for people but one of incredible pride - the opportunity for people to embrace ancestors and carry them home is one that they take with great respect but great pride."
Campaigners here in Australia continue to lobby museums and colleges overseas to return their collections of indigenous skeletons.
Thousands of bones and skulls are thought to be in the hands of foreign institutions, although many remains have been repatriated in recent years.