Australia 'collar-bomb': Paul Douglas Peters charged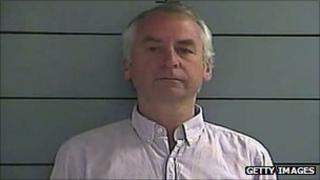 A man has been extradited to Australia to face charges over an alleged attempt to extort money by locking a teenage woman to a fake bomb.
Paul Douglas Peters, 50, arrived in Sydney on Saturday morning under guard on a flight from the US, where he was arrested in Kentucky in mid-August.
He was charged with kidnapping and other offences.
The charges stem from an alleged ordeal endured by 18-year-old Madeleine Pulver on 3 August.
A masked man is alleged to have entered her bedroom in a wealthy Sydney suburb as she studied, attaching a device he said was a bomb to her neck.
A police squad spent 10 hours removing the device, which was later found to contain no explosives.
Mr Peters, a successful international businessman, was later arrested in the US at the home of his ex-wife in Louisville, Kentucky. He did not fight the extradition, though his US lawyer has previously said he rejects the charges against him.
'Admiration'
Mr Peters did not attend a brief hearing at Parramotta Bail Court in Sydney, where charges of kidnapping, aggravated breaking and entering, and demanding money with menaces were filed against him.
He did not apply for bail and will remain in custody until his next hearing on 17 November.
"I have great admiration for Madeleine Pulver and her family for the way they have dealt with this matter and what has been obviously a very traumatic time of their lives," Det Supt Luke Moore said on Saturday.
Det Supt Moore also thanked authorities in the United States for their efforts in finding and arresting Mr Peters.
"The job is far from done and the courts will now make their determination," Det Supt Moore told reporters in Sydney. "I am very pleased that we have been able to bring this matter to where we are today relatively swiftly."
Madeleine's father Bill - a businessman who has made millions from internet software - praised police for their work so far, adding that his daughter was focusing on studying for her final school exams.
"Maddie is a very strong young woman who I think is doing just a stellar job in the circumstances," he said, according to AFP news agency.
The Pulvers say they are mystified as to why they were targeted in the saga.
They say they have never met Mr Peters, though reports suggest he may once have worked for a company with links to the family.