Head of troubled South Korean bank falls to death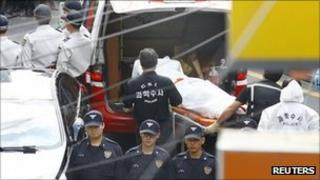 The head of a troubled South Korean savings bank has fallen to his death while customers queued outside the building.
Police said the chief executive of the Jeil 2 savings bank, Chung Ku-haeng, appeared to have jumped from his office on the sixth floor.
The government had suspended the bank's operations last Sunday for suspected irregularities.
Mr Chung's body was found on the pavement near the bank's door.
Police officers were quoted as saying that he appeared to have committed suicide, although they said they had not found a suicide note.
The bank's offices had just been raided by investigators looking for evidence of malpractice in risky property deals.
Depositors have been rushing to withdraw their funds from the Jeil 2 bank - and six other small deposit takers - after their operations were suspended on Sunday. There has been concern that the panic could spread to other banks.
Customers are covered by national deposit insurance for about $40,000 (£26,000). Many of those trying to get their money back were elderly depositors attracted by the higher interest rates on offer.