Fiji profile - media
16 September 2011

From the section

Asia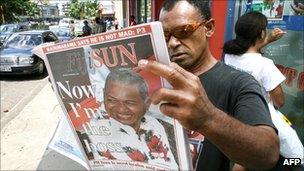 Fiji's private press, long noted for its vigorous reporting, came under strict official censorship in April 2009.
In 2010, a decree tightened media ownership requirements and provided for prison terms for journalists. Reporters Without Borders (RSF) said the ownership rules threatened the Fiji Times, "the only newspaper that has resisted government control".
Radio is a key source of information, particularly on the outer islands. There are publicly and privately-owned stations. The BBC broadcasts on 88.2 FM in Suva.
There were 146,100 internet users by June 2011 (InternetWorldStats). Cost and infrastructure constraints limit the availability of the internet outside the capital, the Freedom House NGO noted in 2011.
RSF says "the army faithful are on the lookout" for online criticism, and several people have been arrested or threatened for their posts.
Press
Daily Post - private daily
Fiji Times - private, main English-language daily
Fiji Sun - private
Sartaj - Hindi-language weekly
Shanti Dut - Hindi-language weekly
Television
Fiji TV - operates national free-to-air Fiji 1 and pay-TV service Sky Fiji
Mai TV - commercial, free-to-air
Radio
Fiji Broadcasting Corporation - state-owned commercial company, operates Fijian-language Radio Fiji One, Hindi-language Radio Fiji Two, music-based Bula FM, Hindi station Mirchi FM, music-based 2day FM