Japan country profile - Overview
11 August 2015

From the section

Asia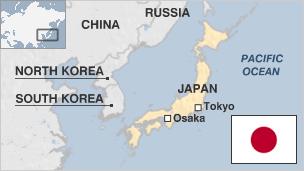 Japan has the world's third-largest economy, having achieved remarkable growth in the second half of the 20th Century after the devastation of World War II.
Its role in the international community is considerable. It is a major aid donor, and a source of global capital and credit.
More than three quarters of the population live in sprawling cities on the coastal fringes of Japan's four mountainous, heavily-wooded islands.
Japan's rapid post-war expansion - propelled by highly successful car and consumer electronics industries - ran out of steam by the 1990s under a mounting debt burden that successive government have failed to address.
The 1997 Asian financial crisis, and bouts of recession, precipitated major banking, public spending and private sector reforms.
Japan remains a traditional society with strong social and employment hierarchies - Japanese men tend to work for the same employer throughout their working lives.
But this and other traditions are under pressure as a young generation more inclined towards Western culture and ideas grows up.
On the other hand, one of the biggest challenges that successive governments have faced is how to meet the huge social security costs engendered by an ageing society. Measures to increase sales tax to this end have proved a difficult issue for recent governments.
Japan's relations with its neighbours are still heavily influenced by the legacy of Japanese actions before and during the Second World War. Japan has found it difficult to accept and atone for its treatment of the citizens of countries it occupied.
The issue of "comfort women", referring to the Japanese army's wartime use of sex slaves, remains a sore point in relations with some neighbours, despite a formal Japanese apology issued in 1993.
South Korea and China have also protested that Japanese school history books gloss over atrocities committed by the Japanese military. Japan has said China promotes an anti-Japanese view of history.
Following World War II, lawmakers forged a pacifist constitution. This seemed inviolable for more than half a century, but since the beginning of the twenty-first century it has been subjected to some reinterpretation.
Twenty percent of the world's earthquakes take place in Japan, which sits on the boundaries of at least three tectonic plates. Schools and office workers regularly take part in earthquake drills, and waiting for "the big one" is deeply engrained in the national psyche.
The March 2011 earthquake unleashed a devastating tsunami, and Japan is still coming to terms with its impact - not least the question of restarting its nuclear energy programme after the closure of the crippled Fukushima plant.