Chinese media demand new approach after rail crash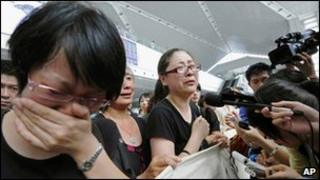 Commentators in the Chinese press are demanding that the government put respect for life before economic development, following Saturday's high-speed rail crash in eastern China and the subsequent public anger over the way officials handled the incident.
Some accuse the authorities of disregarding people's sensitivities in the development of the high-speed network and managing information about the crash, and urge officials to act to restore the trust of the public.
After the incident, which killed 40 people, several relatives criticised local officials and the railways ministry for what they saw as poor crisis management.
EDITORIAL IN BEIJING'S CHINA DAILY
How to deal with public opinion during crisis is a new challenge for the Chinese government. Yet, it is more than obvious that respecting people's lives should be made the prerequisite for government efforts to deal with and prevent any similar accident.
EDITORIAL IN BEIJING'S GLOBAL TIMES
Many choose not to believe whatever results the authorities provide. Microblogs are prime evidence of this... The government should first change the way it handles crisis management. Ensuring open, transparent investigations is the only way to reduce social doubts. The government's voice should be convincing and powerful enough to restore its credibility with the public.
ZHONG YIWEI IN BEIJING'S PEOPLE'S DAILY ONLINE
Safety is the foundation for the operation of high-speed railways, as well as the foundation for the high-speed railways' trustworthiness. Without this foundation, the people will not get on the trains no matter how advanced the high-speed rail technology will be.
COMMENTARY IN BEIJING'S QINGNIAN CANKAO
We do not oppose the development of high-speed rail, but we oppose the rash development of high-speed rail, and especially oppose the rash development of high-speed rail driven by profit and career ambitions. We want speed, but we do not want speed that bears blood... Development that pursues speed and efficiency at the expense of basic security and that puts development above people's lives and safety is only detrimental to society.
EDITORIAL IN HONG KONG'S WEN WEI PO
As long as lessons are earnestly learned from this accident, more importance is attached to safety issues in high-speed rail construction, speed, quality and effectiveness are integrated with safety, and high-speed rail technology and management is perfected, China's high-speed rail will be safer, more reliable and more competitive.
EDITORIAL IN HONG KONG'S MING PAO
If the authorities take the lives and safety of the people as the primary consideration, they should immediately deactivate signal devices that have not undergone an independent review and have been proved safe, to ensure that the people are not at risk.
LEE PING IN HONG KONG'S APPLE DAILY
Stand up those who are unwilling to be high-speed rail slaves! Stand up, those who are unwilling to be censored online! First, the incident must be investigated thoroughly and those responsible held accountable... Second, high-speed rail expansion plans should be suspended... Third, the ministry of railways should be abolished or restructured... Fourth, freedom of expression must be valued, just as life is valued.
BBC Monitoring selects and translates news from radio, television, press, news agencies and the internet from 150 countries in more than 70 languages. It is based in Caversham, UK, and has several bureaux abroad.