State of Origin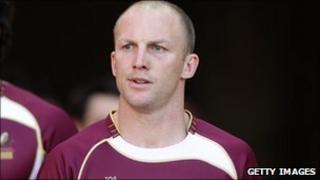 "For many Australians, playing or watching sport gives life one of its principle meanings. The elements of loyalty, fanaticism, pleasure-seeking, competitiveness, ambition and struggle that are not allowed precise expression in non-sporting life... are stated precisely in sport."
So wrote journalist Donald Horne at the start of the 1960s, but like so much of his opus, The Lucky Country, it could have been penned today. Certainly the words loyalty, fanaticism, pleasure-seeking, competitiveness, ambition and struggle could be applied to that great mid-winter sporting festival known simply as "origin rugby".
For the uninitiated, the State of Origin is a series of three rugby league games played each year between Queensland and New South Wales. State against state. Mate against mate. Blues against the Maroons (pronounced Mar-owns). Neat and simple.
Outsiders new to this ritual could be forgiven for thinking that written into the rules is the stipulation that Queensland should always win. They have done so for the past five years, a record winning streak. But this year New South Wales goes into the deciding game with a sniff of victory.
Queensland has an ageing side - for its captain, the great Darren Lockyer, this will be his final origin run-out. By contrast, the New South Wales team is younger and presumably hungrier. Game three, then, has become one of the most eagerly awaited Australian sporting contest in years.
Great rivalry
The state of origin is a relatively new invention. In its present format, the series only started in the early 1980s. But it has quickly established itself as one of the biggest sporting events of the year. That comment is almost sure to rile up Victorians, Western Australians, Tasmanians and South Australians, many of whom will be devotees of the rival code, Aussie Rules (AFL).
For many of them, origin is the biggest of yawns. That said, origin rugby is breaking through in cities like Melbourne, the playing home of some of Queensland's biggest stars, like the sublimely talented full back Billy Slater.
More so perhaps than the club grand final in September (which enjoys the higher television ratings), the State of Origin has emerged as the great showcase for the game. The paradox is that this states-based series has become one of the code's big success stories at the very moment when rugby league's administrators are trying nationalise the game by encroaching into markets traditionally dominated by AFL.
It's a tricky balancing act for the National Rugby League. As sports journalist Adrian Musolino writes: "If the NRL chooses to expand in non-tradition markets rather than in the heartland, it will only erode the significance of State of Origin as players emerge from other states."
So much of the passion surrounding origin is because of the long-standing enmity between New South Wales and Queensland. It has become one of world sport's great rivalries. Accusations of bias from a New South Wales-dominated commentary team on Channel Nine has even led Queenslanders to set up Radio Maroon to offer a rival service.
For some, origin rugby has become an expression of Queensland pride and north of the border exceptionalism. For others, it is a chance to vent against New South Wales and Sydney. For neutrals, it is the opportunity to watch rugby league played at its highest and most brutal form.
This promises to be an almost cracker of a game. With the sound turned up or down, it is definitely worth tuning in.