Just the Tomic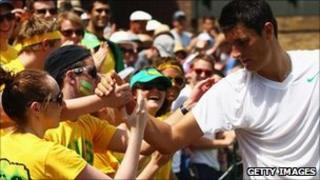 My first brush with Australian tennis royalty came in a swimming pool in Marrakesh of all places, when I found myself shoulder deep in water alongside a ridiculously handsome man who introduced himself, after a bit of nosy prodding, as a "retired sportsman". It quickly became clear that he must be a former tennis pro, and I waded over to my wife to tell her that we were staying in the same hotel as Mark Philippoussis.
"That's not Mark Philippoussis," she scoffed. "That's Pat Rafter."
Despite this unpromising start, Pat could hardly have been friendlier - the cricketer Adam Gilchrist is the only person I have met who rivals him in the sporting nice-guy stakes - and the conversation turned to the question which has weighed heavily on the minds of British tennis fans since the 1930s: "Why hasn't a Brit won Wimbledon in over 70 years?"
Tim Henman's great chance had come, I suggested, when he reached the semi-final in 2001 and took on Goran Ivanisevic, who was at the fag-end of his career. "All he had to do was beat Ivanisevic and he would doubtless have gone on to win the final," I said. It would have been a done deal. With that, I asked whether Pat had ever won Wimbledon. "I lost to Ivanisevic," came his cheerless reply.
I mention all this because in recent years, Australian tennis fans have been having a similar conversation: "When will an Aussie win Wimbledon?" True, the Australian drought has only lasted since 2002, which was the year that Lleyton Hewitt held aloft that famed golden trophy. However, in the land of Rod Laver, Roy Emerson, John Newcombe, Pat Cash, Margaret Court and Evonne Goolagong Cawley, that simply is not good enough.
Between the early 1950s and the early 1970s, Australian men won 14 out of 20 Wimbledon singles titles. In this golden era, the country won 15 Davis Cups. Alas, these days most Australian players do not even reach the second week of grand slam tournaments let alone the final. In the past 30 years, Australians have won just five singles titles - Pat Cash one, Pat Rafter two and Lleyton Hewitt two.
Now at least Australian tennis fans have a new star to root for: 18-year-old Bernard Tomic, who has become the youngest men's player since Boris Becker to reach the quarter-finals of Wimbledon. Remarkably, Tomic is the only Australian player inside the top 100 in the men's world rankings, and while few expect him to win this year's tournament, he has the talent to do so in the not so distant future. For Australia's gloom-laden tennis fans, that day cannot come soon enough.
"Tomic's arrival as a significant force couldn't be better timed for the traditional roaming gang of Australian tennis fans, or 'Earls Court posse', without whom Wimbledon would be... well, a lot less Australian," writes Giles Smith in The Times. "These ardent supporters were, incredibly, on the verge of extinction, thanks to a tragic lack of Australians to be ardent about."
Tomic, who was born in Germany to a Croatian-Australian father and Bosnian-Australian mother, has already predicted he will become the world's number one. "It's just a matter of when and where, and when I grow out of my body," Tomic told the Melbourne Age last year. "It's difficult now because I'm growing a lot."
Despite his one-time success, the Australian sporting public has never really taken to Lleyton Hewitt, largely because of his on-court petulance and a few well-publicised incidents of boorish behaviour. So Tomic is something of a modern-day rarity: an Australian tennis star appearing on the front pages and the back - and for all the right reasons.