US warns on North Korea missile threat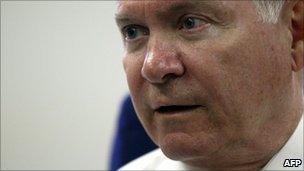 North Korea's missile development could pose a direct threat to the US within five years, Defence Secretary Robert Gates has said.
Mr Gates warned that North Korea could develop a limited number of intercontinental ballistic missiles within that time frame.
And he warned that the risk of conflict on the Korean peninsula was increasing, because South Korea's "tolerance for not responding" to Pyongyang's provocation was nearly gone.
Mr Gates was speaking in Beijing, after talks with Chinese President Hu Jintao.
Later this week he leaves China for more talks on the issue of North Korea with top leaders in Tokyo and Seoul.
Tensions have been high since North Korea shelled a South Korean border island on 23 November, killing two marines and two civilians.
North Korea has since called for talks, but the South says it needs evidence that the offer is sincere.
It is also seeking an apology from Pyongyang for the sinking of the Cheonan warship, which went down in March 2010 with the loss of 46 lives. North Korea denies any role in the incident.
'Some urgency'
Mr Gates said that he believed North Korea would have a limited ability to send a weapon to US shores within five years.
"With the North Koreans' continuing development of nuclear weapons and their development of intercontinental ballistic missiles, North Korea is becoming a direct threat to the United States, and we have to take that into account," he said.
North Korea's missile programme evolved from Soviet-era Scud technology.
It has for several years been working on a family of missiles known as the Taepodong, the most recent of which could potentially have a range that would reach Alaska.
Precise details on this programme are sketchy. But, says the BBC's diplomatic correspondent, Jonathan Marcus, Mr Gates' assessment that such a missile could be operational within five years fits with the views of some independent analysts.
This is a worrying prospect for the Obama administration, our correspondent adds.
Up till now North Korea's missile arsenal has clearly been a threat to South Korea and to the thousands of US troops that are based there, as well as to US allies in the region like Japan.
There will also be a political message in Mr Gates' remarks for his Chinese hosts; an attempt to underline the continuing seriousness with which Washington treats the North Korean challenge.
The US wants China - North Korea's key trading partner - to use what influence it has to rein Pyongyang in.
Mr Gates described the situation on the Korean peninsula as "of real concern".
"We think there is some urgency to proceeding down the track of negotiations and engagement," he said.