North Korea's nuclear programme: How advanced is it?
10 February 2016

From the section

Asia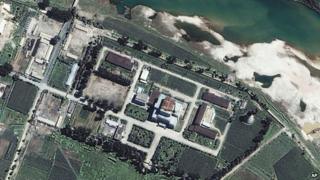 North Korea's nuclear programme remains a source of deep concern for the international community. Despite multiple efforts to curtail it, Pyongyang says it has conducted four nuclear tests and there are indications it is developing long-range missile technology.
Has North Korea got the bomb?
Technically yes, but not the means to deliver it via a missile - yet.
North Korea said it conducted four successful nuclear tests in 2006, 2009, 2013 and 2016.
Analysts believe the first two tests used plutonium, but whether the North used plutonium or uranium as the starting material for the 2013 test is unclear.
While these three were atomic bomb tests, North Korea said its test in January 2016 was of a more powerful hydrogen bomb. Again, the starting material is unclear and experts cast doubt given the size of the explosion registered.
H-bombs use fusion - the merging of atoms - to unleash massive amounts of energy, whereas atomic bombs use nuclear fission, or the splitting of atoms.
Shortly after that test Pyongyang launched a satellite, a launch widely seen as a test of long-range missile technology.
The US said in February it had intelligence indicating that North Korea could soon have enough plutonium for nuclear weapons and was taking steps in making a long-range missile system.
What do we know about the North's nuclear programme?
The Yongbyon site is thought to be its main nuclear facility. The North has pledged several times to halt operations there and even destroyed the cooling tower in 2008 as part of a disarmament-for-aid deal.
However, the US never believed Pyongyang was fully disclosing all of its nuclear facilities - a suspicion bolstered when North Korea unveiled a uranium enrichment facility at Yongbyon, purportedly for electricity generation, to US scientist Siegfried Hecker in 2010.
In March 2013, after a war of words with the US and with new UN sanctions over the North's third nuclear test, Pyongyang vowed to restart all facilities at Yongbyon.
In 2015 a US think tank said satellite pictures suggested the reactor at Yongbyon may have been restarted. Then in September, state media announced that "normal operation" had started at the production plant.
The January 2016 test was said to have been carried out at the Punggye-ri site.
Both the US and South Korea have also said that they believed the North had additional sites linked to a uranium-enrichment programme. The country has plentiful reserves of uranium ore.
What has the global community done about this?
The US, Russia, China, Japan and South Korea have engaged the North in multiple rounds of negotiations known as six-party talks, but none of this has ultimately deterred Pyongyang.
In 2005, North Korea agreed to a landmark deal to give up its nuclear ambitions in return for economic aid and political concessions. But implementing it proved difficult and talks stalled in 2009.
Then in 2012, North Korea suddenly announced it would suspend nuclear activities and place a moratorium on missile tests in exchange for US food aid,. But this came to nothing when Pyongyang tried to launch a rocket in April that year.
The UN further tightened sanctions after the 2013 test.
The 2016 test brought another round of universal international condemnation, including from China, the North's main ally.
Did recent tests advance North Korea's nuclear capabilities?
After its 2013 test and again in 2015, North Korea claimed it had "miniaturised" a device, or made a device small enough to fit a nuclear warhead onto a missile - which the US cast doubt on.
Pyongyang also said the 2013 test had a much greater yield than the devices detonated in previous tests. It was indeed larger in force than previous ones, but monitors failed to detect radioactive isotopes - a key indicator - so uncertainty remains.
Claims of an underground test of a hydrogen bomb in January 2016 were met with plenty of scepticism.
Initial estimates put the blast in the 10 to 15 kiloton range, whereas a full thermonuclear blast would be closer to 100 kilotons.
North Korea again claimed this was a successful test of a miniaturised device, and again it has not been verified.