India rape claim: Bangalore school's gym instructors arrested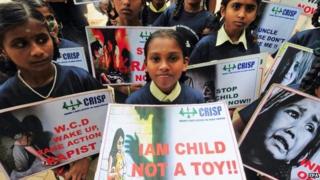 Police in India have made new arrests in connection with the alleged rape of a six-year-old girl inside her school.
The arrested men have been identified as Lal Giri and Waseem Pasha, gym instructors at the Bangalore school.
The skating instructor, arrested last week, was not involved in the crime, police commissioner MN Reddi said.
The alleged assault happened on 2 July but her parents discovered it several days later, after she complained of stomach ache and was taken to hospital.
After days of protests by parents and activists, who were angry at how the school handled the allegations, a skating instructor at the school was arrested and police said he had a laptop with indecent videos of children.
A few days later, the chairman of the school, Rustom Kerawala, was taken into custody for failure to protect the child in his care. He was later freed on bail.
But on Tuesday, police arrested the two gym instructors and registered cases against them under India's new stringent rape laws, says BBC Hindi's Imran Qureshi.
If convicted, the accused could face a jail term of up to 20 years or for life, our correspondent says.
The assault on the child is the latest in a series of brutal gender-related crimes that have caused outrage in India.
Scrutiny of sexual violence has grown since the 2012 gang rape and murder of a 23-year-old student on a Delhi bus.
The crime sparked days of protests and forced the government to introduce tougher anti-rape laws, including the death penalty.
But the law appears to have failed to act as a deterrent. Statistics from the National Crime Records Bureau for 2013 show one rape was reported every 21 minutes.