Indian media: Rising vegetable prices
3 July 2014

From the section

India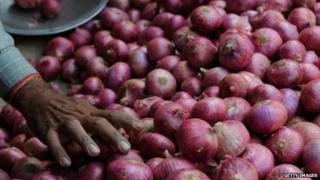 Media feel the government's decision to ban retailers from stockpiling may help reduce the prices of potatoes and onions.
These vegetables are an important part of any middle-class family's shopping list in India and the rising prices are making their lives tough, papers say.
The government took the decision to prohibit individuals from storing onions and potatoes beyond the prescribed limit following complaints about the rising prices despite adequate supplies, reports say.
"We have sufficient supply. There is no need to panic. We are taking all possible measures to improve supply and control prices," the Mail Today website quotes federal minister Ravi Shankar Prasad as saying.
"With this, we are giving right to state governments to take stern action against hoarding (stockpiling) and black marketing," he added, after an inter-ministerial committee meeting.
According to The Financial Express, the move will empower the "state governments to undertake de-hoarding operations and control the prices of these vegetables".
Papers see India's decision to raise the minimum export price for onion by 67% as an essential measure to augment domestic supply.
"Hands tied, knee jerk: Stock limits put on onion, potato," reads a headline in The Financial Express, while the Mail Today's headline says: "Hoarders become the hunted".
While controlling onion prices may not be the government's top priority in other countries, the story is different in India.
The "humble onion" has hurt governments in the past with some even losing elections on the issue.
Prime Minister Narendra Modi, who was sworn in over a month ago, had promised to bring the rising prices of essential commodities under control in his election speeches.
India's Braille outreach
Moving on to other news, India has become the first country to ratify the Marrakesh Treaty to facilitate access to published works for the visually impaired, The Hindu reports.
"The treaty requires signatories to adopt national law provisions that facilitate the availability of published works in formats like Braille that are accessible to the blind and allow their exchange across borders by organisations working for the visually impaired," the report adds.
The treaty was adopted by 79 member countries of the World Intellectual Property Organisation (WIPO) on 27 June 2013.
And finally, commuters in the Mumbai Metro faced an "unusual situation" on Wednesday when the air conditioning system in a train started "giving out rain water instead of fresh air", reports the DNA website.
The video of the leakage soon went viral on social media platforms, giving users an opportunity to make fun of the service.
The Mumbai metro gives you "services to take shower on your way to work", said one user.
The metro service in India's financial capital, Mumbai, was inaugurated on 8 June to ease the city's grinding traffic.
BBC Monitoring reports and analyses news from TV, radio, web and print media around the world. For more reports from BBC Monitoring, click here. You can follow BBC Monitoring on Twitter and Facebook.