Iraq crisis: India nurses 'move to Tikrit hospital basement'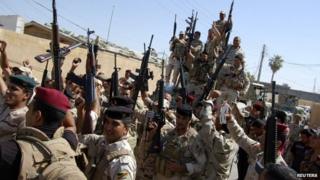 Indian nurses working in the Iraqi city of Tikrit say they have moved to the basement of a hospital where they have been stranded following fresh bombings.
Forty-six Indian nurses are stranded in the hospital in Tikrit, which is under militant control.
A nurse said a militant had asked them to take shelter in the basement after bombs exploded inside the compound.
Many of the nurses are faced with the dilemma of whether to return to India or stay put in Iraq.
Many have borrowed money back home and say they are only able to pay it back because of the higher salaries they get in Iraq.
Marina Jose, one of the nurses trapped in the teaching hospital in the northern Iraqi city, told the BBC Hindi that there had been fresh bombings in the "hospital and even inside the compound" on Monday.
"We were asked by a militant to take shelter in the basement where the kitchen of the hospital is located,'' Marina Jose told BBC Hindi over the phone.
"We are scared. We don't know how to stay here."
This is the second time in two days that bombs have exploded near the hospital.
The nurses say they have been housed in a block of the hospital on the ground floor and the fourth floor.
When the bombs exploded, one of the militants asked the nurses staying in wards-turned-dormitories to follow him into the basement for "safety", Ms Jose said.
"He went away to join the other militants outside. The Iraqi helpers who are at the hospital have also joined us in the basement."
"We informed our embassy and they said they had spoken to the Iraqi Army. They have also informed the Red Cross,'' Ms Jose added.
Syed Akbaruddin, spokesperson for India's foreign ministry, told the BBC that India had informed the Iraqi civilian and military authorities about the trapped nurses.
The evacuation of the nurses here has been stalled as the roads to the nearest airports, Baghdad and Irbil, have been areas of heavy fighting between the Iraqi Army and Isis militants during the last three weeks.
The nurses have said that food was being delivered to them, and that there were no patients at the hospital.