Indian media: Modi's economic challenge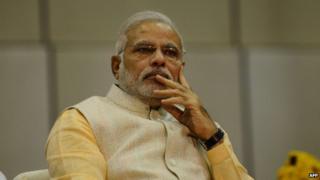 Media in India urge PM-elect Narendra Modi to focus on meeting people's "great expectations" in the first 100 days of his stint.
"Having been voted to power with a huge mandate, the Narendra Modi government has a lot of expectations to fulfil. But for now, it must focus on reforming the judiciary, improving healthcare and education, and creating employment," says The Pioneer.
Echoing similar sentiments, The Tribune says that Mr Modi has "come to power in an atmosphere of great expectations... In the popular mind, he is the doer, a man who takes decisions and has clear-cut policies that will put the country on the path of rapid development".
The Economic Times concurs that "expectations are now exceptionally high for the new government with regards to reforms and governance".
"The coming 100 days are going to be very important - the cabinet formation, the budget, even some indications of how the government is going to move to get the economy back on track, all these will be very important events to watch," the paper quotes economic analyst Rashesh Shah as saying.
The Times of India also focuses on Mr Modi's economic challenges.
"India's economic growth rate is anaemic, inflation high, fiscal situation under pressure and pace of job creation slow. This calls for remedies that may be unpopular... The first few months tend to be an incoming government's honeymoon period and they are best utilised to push through measures that may prove politically unpopular," it says.
Rajapaksa's visit
Meanwhile, papers are discussing Tamil parties' decision to oppose Mr Modi's invitation to Sri Lankan President Mahinda Rajapaksa for his swearing-in ceremony on 26 May.
Indian Tamil parties say Mr Rajapaksa's government has not done enough for Sri Lanka's Tamil community.
However, some Indian papers papers are criticising the opposition.
"This is posturing at best and poor politics at worst… The new prime minister is not likely to address the Tamil issue for quite a while, saddled as he is with a faltering economy. So, we can only assume that this is simply grandstanding. However, this is hardly constructive and neither helps the Tamils' cause nor boosts their own stature or bargaining power," says the Hindustan Times.
And finally, the Nationalist Congress Party (NCP) says the ruling coalition lost the general election because of an excessive use of the English language by the Congress party, the Asian Age reports.
"According to the NCP, the good work done by the government was not understood by voters because the Congress leaders spoke in English in parliament. On the other hand, the BJP leaders expressed their views in Hindi and this reached out to majority of people," the paper adds.
BBC Monitoring reports and analyses news from TV, radio, web and print media around the world. For more reports from BBC Monitoring, click here. You can follow BBC Monitoring on Twitter and Facebook.