Indian media criticise BJP over 'attack' on poll watchdog
9 May 2014

From the section

India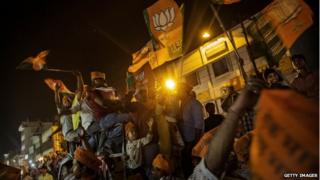 Media outlets in India have been criticising the main opposition BJP over its "attack" on the country's poll watchdog.
The BJP held a protest on Thursday in Varanasi city after its leader Narendra Modi was denied permission to hold a rally there by the Election Commission (EC).
Mr Modi is contesting the Varanasi constituency in the general election. The BJP later said that the EC "did not act in a fair manner".
"I cannot conceal my disappointment with the EC. Men in constitutional offices need to be bolder. Timid men can dwarf high offices," senior BJP leader Arun Jaitley wrote in his blog.
Some newspapers, however, feel the BJP's criticism has weakened the EC's authority.
"Directly attacking the EC not only undermines the authority of this crucial institution but also casts aspersions on the democratic process itself," says The Times of India.
"If all of this is a BJP strategy to whip up support and energise the party cadre ahead of the last round of polling, it is a terrible precedent for a national party to set," the paper adds.
The Hindustan Times agrees, saying "major national parties must ensure that they don't step out of line as far as the EC guidelines are concerned and cast doubts on the intentions of the election watchdog publicly".
Poll alliances
Staying with poll-related news, Mr Modi has hinted that his party may consider post-election alliances in the event of a hung parliament, even with parties that he has clashed with during the campaign.
In his interview to the Times Now channel on Thursday, the BJP leader said that "election-time vitriol need not impact post-poll alliances".
"Politics isn't conducted on the basis of what is said in the course of election campaign," Mr Modi said.
On the BJP's conflict with the EC, Mr Modi said "it is for the Election Commission to answer why specifically a single party is being troubled, why Modi is being troubled".
And finally, a 17-year-old student was found hanging from a fan in her school near Delhi after being allegedly "scolded for talking on a mobile phone in the school premises, which is not allowed", the NDTV website reports.
"It is not confirmed whether the mobile phone belonged to her or someone else. She requested the class teacher not to inform her father about the phone and then went missing from the class," the report quotes a teacher as saying.
"She was found texting a male friend during class and was reported by a classmate," the Hindustan Times quotes school principal Gulshan Dewaan as saying.
The school said the girl killed herself but her parents "alleged foul play", the report adds. Police say they have launched an investigation into the case.
BBC Monitoring reports and analyses news from TV, radio, web and print media around the world. For more reports from BBC Monitoring, click here. You can follow BBC Monitoring on Twitter and Facebook.