Indian media: 'Voting wave'
18 April 2014

From the section

India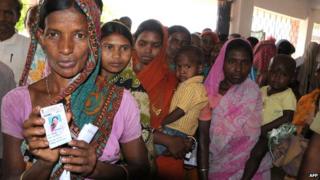 Media in India are welcoming what they call a "voting wave" in the fifth phase of the parliamentary election.
Voting was held in 121 constituencies spread across 12 states on Thursday in the fifth and biggest phase of the elections.
The nine-phase vote began on 7 April and will conclude on 12 May. Votes will be counted on 16 May.
The Election Commission on Thursday said the average turnout was over 65% against 58% in the 2009 general elections, papers report.
In particular, four seats in the eastern state of West Bengal registered a high turnout of 81.6%.
Newspaper headlines have captured the mood in their front-page headlines.
"Voting wave sweeps India, all 12 states beat turnout in 2009 poll", reads the Hindustan Times' headline.
"There is definitely a wave this election - that of the voter….A good turnout is considered a strong sign of anti-incumbency, a cause of worry for the Congress", writes the Hindustan Times.
The Asian Age says the polling "saw a massive jump of over 10% voting this year from the 2009 general election".
The Pioneer says the top contenders - the main opposition Bharatiya Janata Party (BJP) and the ruling Congress - have "stakes" in the fifth phase of the election.
"With opinion polls showing the BJP excelling in many of the states that went to elections on Thursday, the Congress has reasons to be on the back foot as the general election reached the halfway mark with the fifth phase", it says.
Meanwhile, the Election Commission (EC) has allowed Amit Shah, a close aide of the BJP's PM candidate Narendra Modi, to campaign for the polls after the politician gave assurances that he would not disturb law and order, the India Today website reports.
The poll watchdog had banned Mr Shah from campaigning after his alleged "hate speeches" earlier in the month.
Staying with election-related news, people in a village in the central state of Madhya Pradesh greet each other with the name "Kejriwal" in a show of support for Aam Aadmi Party leader Arvind Kejriwal, the Hindustan Times reports.
Residents of Ghoghalgaon village believe Mr Kejriwal can help eliminate corruption from the country, it says.
"There are a 1,000 Kejriwals in Ghoghalgaon. We greet each other as such. Even kids and women are addressed as Kejriwal," the paper quotes 80-year-old Bhiku Bai as saying.
And finally, a train reached its destination 26 hours late because it took a wrong turn on its journey from the western of Gujarat to Kerala state in southern India, reports The Hindu.
Passengers on the Okha-Ernakulam Express say they faced a lot of inconvenience as they were not informed about the change and had to spend the extra time with very few facilities, it adds.
BBC Monitoring reports and analyses news from TV, radio, web and print media around the world. For more reports from BBC Monitoring, click here. You can follow BBC Monitoring on Twitter and Facebook.