Why India's election could be close
5 March 2014

From the section

India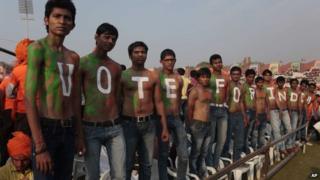 No single party has won a majority in India's parliament since 1989 and governments since then have been formed with the support of smaller, regional parties.
Observers say the country's 16th general election - to be held in nine phases in April and May - will be no different.
There has been a welcome - and sometimes chaotic - deepening of democracy in the six decades since Independence.
There were an average of 4.67 candidates per constituency in India's first elections in 1952; in 2009, the number had risen to over 10. In the 1952 polls, the difference between the winning party (Congress) and its closest rival (Communists) was 348 seats. In 2009, the difference (between Congress and the BJP) had shrunk to 90 seats. The current parliament has 39 parties.
Yet, the 2014 election is being spun as a vote against the beleaguered ruling Congress party and for Narendra Modi, the controversial leader and prime ministerial candidate of the main opposition Hindu nationalist Bharatiya Janata Party (BJP).
Observers say a slowing economy, high inflation, a string of high-profile corruption scandals, and a jaded government are likely to sink the Congress party at the polls; opinion polls predict a debacle with the party winning fewer than 100 seats (it currently has 206).
Many say the two-term government, which has been responsible for some landmark entitlements-based legislation - rights to information, food and education, for example - frittered away its goodwill because of the mishandling of the economy and corruption scandals.
Under the leadership of Manmohan Singh, whose authority seems to have eroded rapidly, the Congress government has often resembled a rudderless ship. Rahul Gandhi's elevation as the man to lead the campaign also appears to have come a bit late in the day.
On the other hand, the BJP, under Mr Modi, appears to be in the ascendant. In recent elections, the BJP swept to power in three of the five states and emerged as the single largest party in Delhi.
With his muscular nationalism and promises to replicate the high rates of economic growth Gujarat has enjoyed under his rule, Mr Modi appears to be the favourite of a large number of young voters. Yet, in a twist of irony, Mr Modi could turn out to be both an asset and a liability for the BJP.
An observer says the 2014 elections could have been a "slam dunk" for the BJP - but for a polarising prime ministerial candidate like Mr Modi.
Though his supporters credit him with being a canny and efficient leader, his critics - and there are many - say he did not do enough to stop India's worst anti-Muslim riots in Gujarat in 2002. Muslims, who comprise 13% of India's population, are not likely to vote for Mr Modi. The new anti-corruption Aam Aadmi Party (AAP), which made a spectacular debut in Delhi polls, could also play a spoiler in some seats.
That could mean a very closely fought contest, in which the BJP may have to reach out to, yes, the smaller, regional parties to cobble together a winning alliance and form a government. Whether the regional parties - mostly run by popular, mass leaders - would accept Mr Modi as a prime minister will possibly depend on how many seats the BJP can mop up on its own.
That could make it one of the most exciting elections India has seen for years.