Telangana: Andhra Pradesh shutdown over new India state
14 February 2014

From the section

India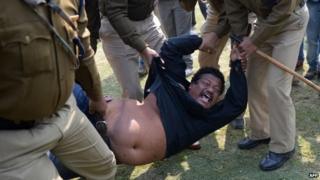 A one-day strike is being held in the southern state of Andhra Pradesh to protest against the introduction of a bill in the Indian parliament to create the new state of Telangana.
The regional YSR Congress party, which has called the strike, says the bill makes a "mockery of democracy".
On Thursday an MP opposed to the new state used pepper spray in parliament to disrupt proceedings.
L Rajagopal was suspended along with 16 other MPs for "unruly behaviour".
Veteran politicians said what happened on Thursday morning was unprecedented.
Indian television showed MPs leaving the colonial-era building coughing and spluttering, some wiping their eyes. Some were taken to hospital.
The entire session of the current parliament - which began on 5 February - has been disrupted by those opposed to the creation of Telangana.
"We condemn the manner in which the bill has entered the house and it is a black day for parliamentary democracy," YSR Congress leader YS Jaganmohan Reddy said.
"The chair [Speaker of the lower house of parliament] announcing that the bill is tabled within 10 seconds of her arrival shows that the government has no respect for democratic values and wants to push through its agenda by hook or crook," he added.
Telangana, with a population of 35 million, would comprise 10 of Andhra Pradesh's 23 districts, including the city of Hyderabad.
Backers of the new state say the area has been neglected by the government.
Opponents are unhappy that Hyderabad, home to many major information technology and pharmaceutical companies, would become a shared state capital for 10 years, after which it would remain with Telangana while Andhra Pradesh would have to develop a new capital.
Last month, lawmakers of the Congress party, which governs Andhra Pradesh, opposed a proposal to split the state.
The move was seen as an embarrassment for the federal government. A final decision on the state rests with the parliament.