Indian media criticise AAP's 'anarchic protest' in Delhi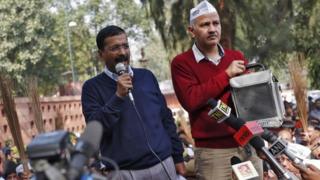 Media in India have criticised the Aam Aadmi Party (AAP) government in Delhi for their "chaotic and anarchic" street protest over "bad policing" in the city.
The "unprecedented confrontation" between the AAP and the federal government comes days after a controversy involving Delhi Law Minister Somnath Bharti demanding that police raid a house suspected of prostitution and drug use. Police said they had no legal warrant.
But Delhi Chief Minister Arvind Kejriwal demanded that the federal government suspend police officers over their alleged reluctance to raid the house and over their handling of the gang rape of a Danish woman.
The Delhi police is responsible for maintaining law and order in the national capital and is run by the federal government, but Mr Kejriwal wants more control over the force.
The AAP was borne out of an anti-corruption movement that swept India two years ago and made an impressive debut in the recent Delhi state elections.
But papers feel the new party and its state government in Delhi have acted in a "naive manner" by staging another indefinite street protest.
The protest "saw four Metro stations closed down, traffic jams and colossal chaos that inconvenienced hundreds of thousands of people, from office-goers to ordinary commuters", The Asian Age says.
The Hindustan Times says Mr Kejriwal "is either being extremely naive or needlessly combative. Both are not sterling virtues in a person in charge of an unwieldy and complex state like the capital".
"If Mr Kejriwal and his ministers continue like this, many will wonder whether they will ever be able to make the transition from activists to elected representatives," it adds.
Echoing similar sentiments, The Indian Express says "the AAP has continued to behave as though it is a popular reality TV show, sidestepping the processes and institutions of representative government, trying to change laws from the streets".
Papers are also concerned over the AAP "anarchic protests" being held in Delhi's high-security zone, where restrictions are in place for India's Republic Day celebrations on 26 January.
Mr Kejriwal says he will not end the protest until his party's demands are met.
"How can [federal] home minister [Sushil Kumar Shinde] sleep when so many crimes are happening in Delhi? When women feel unsafe in the city? If a chief minister cannot suspend a corrupt police officer, what kind of Republic Day will you celebrate?" he says.
Tiger of Mysore
Meanwhile, the new-generation Agni-IV missile, which has a strike range of 4,000 kilometres (about 2500 miles), was successfully test-fired on Monday, The Times of India reports.
The trial is "very significant" since it takes India's "level of strategic deterrence, its preparedness and effectiveness to newer heights," the report quotes Avinash Chander, chief of Defence Research and Development Organisation, as saying.
Also making headlines, a 21-year-old woman was "beaten up and gang-raped" in the eastern city of Calcutta on Sunday night, The Times of India reports.
Chief Minister Mamata Banerjee has said "stringent action" will be taken against those responsible.
The latest incident comes after the gang rape of a 16-year-old girl in October last year which sparked protests in the city.
And finally, the federal government is all set to construct a memorial for 18th Century Muslim ruler Tipu Sultan, The Deccan Herald reports.
Tipu Sultan, also known as the Tiger of Mysore, was the ruler of the southern Mysore state from 1782 to 1799. He refused to submit to British rule and was killed in a battle in 1799.
BBC Monitoring reports and analyses news from TV, radio, web and print media around the world. For more reports from BBC Monitoring, click here. You can follow BBC Monitoring on Twitter and Facebook.