India Supreme Court limits use of red beacon lights on cars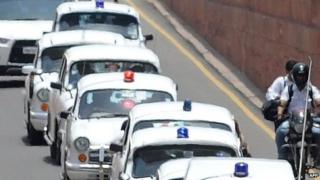 India's Supreme Court has said only those holding constitutional offices can have red beacons on their cars.
Under the new rule, only the president, the prime minister, cabinet ministers, senior judges and some other officials will be entitled to red beacons.
Emergency vehicles, ambulances and police cars could use flashing blue lights, the court ruled.
Critics say VIPs often use red beacons as a status symbol and these lead to traffic chaos for commuters.
In a judgement delivered on Tuesday, the court also banned pressure horns, multiple sound emitting horns and musical horns in vehicles.
The court's ruling came on a petition questioning the "indiscriminate use of red beacons and sirens" by status conscious politicians and government officials.
The authorities have been given a month to implement the court order.
Correspondents say once the order is implemented, junior ministers in Delhi and at state levels, MPs and state legislators and many government officials will have to give up their red beacons.