India's Tehelka magazine faces uncertain future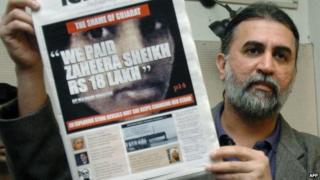 Since its inception as a web magazine in 2000 and in its current form as a news weekly, Tehelka has broken some of India's biggest stories. But with its founder-editor Tarun Tejpal battling allegations of sexually assaulting a female colleague, the magazine's future looks uncertain, writes BBC Hindi's Vineet Khare.
"I am livid, frustrated and aghast at the turn of events and I don't know what the future holds for me," a Tehelka journalist told me over the phone about the unfolding events at the title.
As its founder editor Tarun Tejpal launches a legal defence against allegations of sexually assaulting a female employee, questions have arisen about what lies ahead for a magazine highly regarded for its investigative journalism.
Tehelka's fabled - and controversial - stings using secret cameras have uncovered politicians and military officials accepting illegal money in shady defence deals, cricketers talking about fixing international matches, and right-wing Hindu activists allegedly confessing to killing Muslims during the 2002 Gujarat riots.
The magazine has investigated allegations of corruption against one of India's top judges, and helped expose witnesses who turned hostile in a famous murder case involving a model.
Crusading journalism
For its supporters, Tehelka's hallmark was its fearless, crusading journalism, its willingness to take on those in power, and its taking up of unfashionable causes and "public interest issues" - the state of women in India, ironically, being one of the publication's pet areas of interest.
Its use of hidden cameras as a journalistic tool was fiercely debated but later spawned many clones.
Tehelka quickly gained international recognition. The Guardian called it "one of the best sources of news in India". The BBC said "Tehelka has invested heavily in hard hitting investigative reporting and has pushed the boundaries of editorial content further than most…"
But critics accused it of practising agenda-driven journalism and siding with the ruling Congress party, a charge repeatedly denied by Mr Tejpal. Others said Tehelka's journalism, at its worst, smacked of preachy pamphleteering and accused it of openly taking sides.
Tehelka's team of some 50 modestly paid and young and energetic journalists soon gained a reputation as one of the best in India. However, the magazine has always suffered a high attrition rate, which Mr Tejpal blamed on its inability to match big media salaries.
The magazine has also struggled from time to time to raise money from investors to keep it afloat.
'Damaging time'
But others like former Tehelka journalist Manjula Narayan believe that many staff left the magazine because they were unhappy with the way it was working.
"Some are disillusioned by the disconnect between the stories featured and those who fund the magazine, others by the cultish aura of the place, still others by the lofty talk of saving the poor while courting the rich," she wrote in the Hindustan Times.
But none of these criticisms compare with the scandal that erupted after Mr Tejpal, 50, stood down following the allegations of sexual assault and became the subject of a police investigation.
As Mr Tejpal "recused" himself from the editor's post, Tehelka's managing editor Shoma Chaudhury was criticised for initially claiming the victim was "satisfied" with the magazine's response.
Then she talked of another "version" of the charges, alluding to the fact that Mr Tejpal had a different take of the alleged assault.
"In a staff meeting, we told Shoma that her poor handling of the issue has further dented Tehelka's reputation," said one of the magazine's journalists.
To add to Tehelka's woes, Ms Chaudhury herself resigned from the magazine, saying it was a "damaging time" for the publication and denying allegations of a cover-up.
KD Singh, a businessman friend of Mr Tejpal and an MP who currently owns 35% of Tehelka, agrees: "Tehelka could have handled it better. There was so much variance between Shoma and the victim's statements. Had someone contacted me, I would have advised differently."
Tehelka is owned by Anant Media Private limited, which media reports quoting government records suggest is a "subsidiary of KDS Corporation", a company controlled by Mr Singh. Mr Tejpal owns 19% of Tehelka.
Ms Chaudhury contends she stood solidly behind the victim and is being wrongly accused and defamed in the media.
Six journalists, including Ms Chaudhury and the woman who says she was assaulted, have quit the magazine so far amid the controversy.
"I decided to leave because I am debt-free and do not support a family, but some of my ex-colleagues are in a fix since the job market is tight," said one journalist who quit his post in protest over the magazine's handling of the affair.
'Distressing'
A "tarnished" Tehelka now stares at an uncertain future, with its main owner Mr Singh calling the charges against Mr Tejpal "disturbing and distressing".
"For the first four days, I refused to speak to anyone because I was equally shocked. Then I issued a statement because I had to take a stand," said Mr Singh, who says he "invested in Tehelka to support its ethical journalism".
Mr Singh said he doesn't wish to "sit in judgement" and would await a "final verdict", and any further dilution of his stake in the magazine would be a "business decision" unaffected by the incident.
"Although Tarun Tejpal is identified with Tehelka, it should be able to withstand any such aberrations of such an individual if they are proved to be right."
Text messages and questions sent to Mr Tejpal and Ms Chaudhury on Tehelka's future by this correspondent went unanswered.
But a close relative of Mr Tejpal said that "things are happening so fast and we don't know what will happen the next hour. We are not in a position to say anything".
Independent journalist Paranjoy Guha Thakurta said that the "huge battering" of Tehelka's credibility has effectively killed any chances of its financiers investing further in the magazine.
Senior journalist Hartosh Singh Bal, who quit Tehelka in 2006 due to editorial differences, said: "Tehelka has no future. Its identity is synonymous with Mr Tejpal and Ms Chaudhury. Now with their reputation under a cloud and issues with funding, what are you left with?"
But not everyone has lost hope.
Some Tehelka journalists have mooted the idea of setting up a board with independent professionals to run the company.
Mr Thakurta feels the idea "may help" in shoring up the magazine's credibility. Mr Singh calls it a "good" thought.
"I am waiting for things to clear up. But currently, I am so dismayed that my mind is not working," said Mr KD Singh.