Indian media criticise Delhi's 'diplomatic error' over Commonwealth summit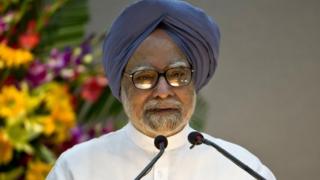 Media in India see Prime Minister Manmohan Singh's boycott of the Commonwealth summit in Sri Lanka as a "diplomatic error".
Reports say Mr Singh cancelled his visit and decided to send his foreign minister instead due to political pressure from regional Tamil parties in India.
The parties criticise the Sri Lankan government for its alleged war crimes against Tamil Tiger rebels in 2009 and want it to hold an independent inquiry.
A meeting of the Commonwealth group, which is an organisation of 53 former British territories, is due to take place this week.
Sri Lanka says Mr Singh's decision is "not a defeat" for the summit.
The Deccan Herald feels Mr Singh has made a "serious diplomatic error" by cancelling his participation.
"It is very wrong to allow the country's foreign policy to be held hostage to the narrow political and electoral considerations of regional parties. A weak government is setting a bad precedent for future, and no one gains from it too," the paper adds.
The Times of India says the government has taken the decision due to "populist electoral considerations".
"This utter capitulation to domestic political sentiment - months before the general elections - exemplifies an infirm government whose creeping paralysis has affected its foreign policy as well," it says.
For The Hindu, India's diplomatic blunder can lead to Sri Lanka looking for other allies in the region.
The paper adds that "it is debatable if Sri Lanka will turn into a Chinese satellite in the Indian Ocean as is commonly feared, but clearly, the island will be looking for other allies in the region and beyond".
The Tamil Nadu-based paper also criticises regional Tamil parties, saying it is easier for them "to flog the emotional overtones of the issue than respond to more pressing domestic concerns".
Staying with foreign affairs, Russia, China and India have agreed to join hands in the fight against terrorism, particularly after the withdrawal of Western forces from Afghanistan in 2014, the Deccan Herald reports.
The decision was taken at a trilateral meeting in Delhi between foreign ministers of India, Russia and China.
"We had a very productive discussion on the issue of counterterrorism. We also want to look together at countering the drug trade that is as great a menace as terrorism," Indian Foreign Minister Salman Khurshid said.
Wine festival
Moving on to other news, a filmmaker duo from Iceland is making a documentary on the social evil of acid attacks on women in India, The Times of India writes.
The Indian Supreme Court recently banned the sale of acid in open shops after a series of assaults - mostly against women.
Filmmakers Bjarney Ludviksdottir and Lina Thoroddsen have met victims, doctors, legal experts and activists in Delhi, Mumbai and Calcutta.
They plan to sell the film to TV channels in Iceland, and "if there are any profits, they will go straight to the survivors".
Meanwhile, Indians will soon gain online access to thousands of rare ancient manuscripts, according to a report in The Tribune.
The National Mission for Manuscripts is busy digitising manuscripts from repositories all over India and has already completed work on over 70,000 documents.
And finally, enthusiasts are thronging a wine festival in Shillong in the north-eastern hill state of Meghalaya, The Business Line says.
The "only-one-of-its-kind" festival offers home-brewed wines made from a range of ingredients including ginger, mulberries, strawberries, passion fruit, plums, bananas, jackfruit, sticky rice or cashew apples.
BBC Monitoring reports and analyses news from TV, radio, web and print media around the world. For more reports from BBC Monitoring, click here. You can follow BBC Monitoring on Twitter and Facebook.