Indian media: 'No merit' in opinion polls ban
5 November 2013

From the section

India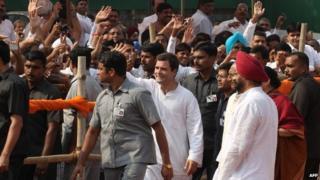 Media in India are opposing a possible ban on opinion polls ahead of the 2014 general elections.
The ruling Congress party has been severely criticised by the media for supporting the Election Commission's proposal.
Regional parties like the Samajwadi Party and the Bahujan Samaj Party are supporting the proposed ban, while the main opposition Bharatiya Janata Party is against the idea, newspapers say.
The Hindustan Times defends opinion polls, saying "psephology is a science that analyses political results".
The paper adds that the Congress party should not get disheartened by its poor approval ratings and must "look at them as an early warning system and use the time left for course correction before the general elections in 2014".
"The Election Commission's proposal to ban opinion polls before the elections and the Congress party's support for such a proposal is completely devoid of merit and is not based on any convincing reason," says the Deccan Herald newspaper.
The daily goes on to say that "to imagine that the voters will go by them (opinion polls) is to question their wisdom".
The Indian Express too criticises the Congress Party, saying "it has deservedly invited widespread derision for telling the Election Commission that it thinks opinion polls should be banned".
Meanwhile, newspapers are giving prominent coverage to India's first-ever mission to Mars.
Hindustan Times says the move marks a "giant leap" for India's space programme.
Moving on to sports, authorities in the eastern city of Calcutta are making grand preparations to make legendary batsman Sachin Tendulkar's second-last Test match at the Eden Gardens stadium a special occasion.
The master batsman will play his 199th Test in the city from Wednesday before moving on to play his final match in his home city of Mumbai a week later.
While a life-size wax figure of the master batsman is already on display, cricket officials are planning to shower 199kg (440lb) of rose petals from the sky and hand out 67,000 Tendulkar masks to fans on the opening day of the match, reports The Indian Express.
And finally, former federal minister Laloo Prasad Yadav has turned a gardener in prison and is now earning 14 rupees (23 cents; 14 pence) a day for tending to lawns and flower beds, reports The Times of India.
Yadav was considered one of the most powerful politicians in the country, but his career suffered a setback last month when a court sentenced him for five years in connection with a corruption case popularly known as the "fodder scam".
He was jailed on 3 October after he was found guilty of embezzling state funds intended to buy food for cattle while he was the chief minister of the eastern state of Bihar.
BBC Monitoring reports and analyses news from TV, radio, web and print media around the world. For more reports from BBC Monitoring, click here. You can follow BBC Monitoring on Twitter and Facebook.