Indian media: Rahul Gandhi's 'emotional speech'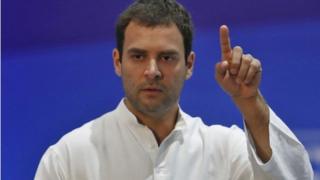 Media in India are highlighting Congress party leader Rahul Gandhi's "emotional speech" ahead of key elections in five states.
Mr Gandhi spoke of the assassination of his grandmother Indira Gandhi and father Rajiv Gandhi - both former prime ministers - in his speech at a rally in the northern state of Rajasthan on Wednesday.
"Rahul Gandhi raised an emotional pitch addressing two rallies in poll-bound Rajasthan, portraying himself as a victim of the 'politics of hatred', adding he could be assassinated like his grandmother Indira Gandhi or father Rajiv," says The Economic Times.
"I understand the pain of losing someone very close. My father too was killed… Anger over violence is natural but it only hurts common people. The Bharatiya Janata Party (BJP - India's main opposition party) makes use of people's anger," the Hindustan Times quotes Mr Gandhi as saying.
The CNN-IBN website says "taking a look at Mr Gandhi's election rallies over the last few weeks, it seems the Congress leader has ensured he re-visits his past and recounts emotional anecdotes".
Newspapers say Mr Gandhi's strategy is largely aimed at voters in rural and tribal areas.
"Mr Gandhi's aim it appears is two fold: to strike a direct connect with his audience, mainly in rural and remote areas, who have in the past been strong voters of 'Indira Amma' (Mother Indira) and evoke the 'sacrifice' that his family has made for the nation," says The Business Standard.
But media say it's too early to analyse the impact of his emotional pitch on voters.
"Wednesday was the perfect day for him to try out his (new) strategy. But on the basis of evidence at hand, it is difficult to know if it worked," the First Post website says.
In more political news, the BJP has ended "weeks of suspense" by naming former health minister Harsh Vardhan as its chief ministerial candidate for assembly elections in Delhi, The Hindu reports.
For the past two months, there had been speculation about a reported rift between Mr Vardhan and senior party leader Vijay Goel, who was also an aspirant for the post.
But on Wednesday, Mr Goel denied these reports.
"There was no rift in the party. I am very satisfied with the decision, and now the agenda is to work towards winning the elections," he said.
India's 'Super 30'
Meanwhile, the Geological Survey of India has launched a "state-of-the-art" deep sea research vessel, RV Samudra Ratnakar, to meet the "fast-growing challenges of the modern geo-scientific oceanographic researches", the paper, in another report, says.
The vessel can "explore and identify the favourable zone" of accumulation of gas hydrates, believed to be the future source of hydro-carbon energy, the report says.
Meanwhile, the University of East London has joined hands with Mumbai-based Tata Institute of Social Sciences to study a successful social experiment in the education sector in the eastern state of Bihar, The Times of India reports.
The study aims to find what makes the Super 30, an Indian educational programme, so successful for students from poor families.
The Super 30, which started in 2002, selects at least 30 underprivileged students every year and trains them for India's fiercely competitive engineering exams.
"The students from deprived sections have amply demonstrated that with right opportunity, they are themselves capable to scripting change," Super 30 founder Anand Kumar was quoted by the paper as saying.
And finally, Bollywood star Shah Rukh Khan is likely to become South Korea's goodwill ambassador, The Indian Express reports.
South Korea's envoy to India, Tae In Chung, said the move comes at a time when the two countries are marking the 40th anniversary of their diplomatic ties, the report says.
BBC Monitoring reports and analyses news from TV, radio, web and print media around the world. For more reports from BBC Monitoring, click here. You can follow BBC Monitoring on Twitter and Facebook.